by Blaine Curcio and Jean Deville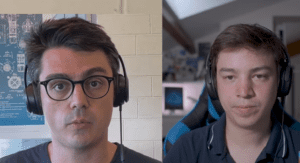 As part of the partnership between SpaceWatch.Global and Orbital Gateway Consulting we have been granted permission to publish selected articles and texts. We are pleased to present "Dongfang Hour China Aerospace News Roundup 16 – 22 August 2021".
Hello and welcome to another episode of the Dongfang Hour China Aero/Space News Roundup! A special shout-out to our friends at GoTaikonauts!, and at SpaceWatch.Global, both excellent sources of space industry news. In particular, we suggest checking out GoTaikonauts! long-form China reporting, as well as the Space Cafe series from SpaceWatch.Global. Without further ado, the news update from the week of 16 – 22 August 2021.
1) Chinese launch companies measured in 2019-2020 workforce increase
Jean's Take
The growth of Chinese launch companies has generally been measured with metrics such as the amount of funding raised or the completion of various milestones in the development of rockets (engine hot fire test runs, hop tests, payload fairing tests, control surface tests, etc.)
This week, let's look at another way to do this: looking at how the company is growing in terms of its workforce.
For some context, Chinese firms need to submit an annual business report to the local industry & commerce authorities, and this report is called 工商年报/企业年报. This report has to be submitted before June 30 every year, and it includes some interesting information like company legal status, equity, and… numbers relating to workforce.
Some netizens on the Chinese internet took the time to compile this data in 2019 and 2020 for commercial launch companies, and published an interesting table (which was translated into English by the owner of the Twitter account Ace of Razgriz, special thanks to him). There are some fascinating takeaways:
The massive growth of what was generally already considered as the top-tier rocket companies: iSpace, Landspace, Galactic Energy. All of these companies have on average more than doubled in size in terms of workforce (average growth = +225%). This is unsurprising considering that these launch companies are quite advanced in their development, with hops and/or inaugural launches of liquid-fueled reusable rockets planned this year and next year. They are also all working on multiple rocket programs simultaneously.
The unexpected come-back of One Space: which is also a "first generation" company, but was said to be in dire straits after the failure of their OS-M orbital launch in 2019, with a large outflow of talent.
The company has since restructured its business, diversifying into providing launch subsystems (telemetry, flight control, engines) and various related services (simulation, testing, …), although they still plan to develop a family of rockets called Linglong.
This seems to have paid off, as they raised a new amount of funding from investors in September 2020, and has successfully performed some suborbital launches since. And this seems to be confirmed surprisingly well by the healthy growth in their workforce in 2020 (x3).
Promising growth of what is generally referred to as 2nd or 3rd generation companies, such as CAS Space, Deep Blue Aerospace, Space Pioneer (aka Tianbing Aerospace). These launch companies, founded at a later stage, are moving very fast, with inaugural launches planned for the end of the year in theory for CAS Space and Space Pioneer, and with DBA performing hops at this very moment.
The jump in the workforce for these companies is not surprising (+182% on average).
Rocket engine companies going strong: S Motor, AA Engine, Aerospace Propulsion, JZYJ which all have experienced a significant increase in their workforce. Only XAPT seems to be stable at 28 registered employees with insurance.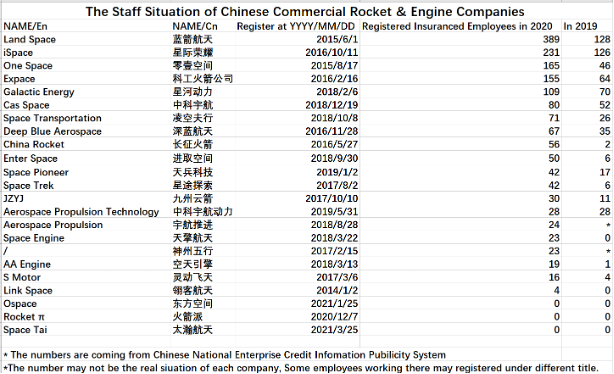 Overall, it seems that this table confirms many of the trends that we were generally already aware of.
Is there anything unexpected or surprising?
Other than a small number of names that I hadn't encountered before (what on earth is Space Tai?!), a big point of interest is to see Linkspace stuck at 4 insured employees in 2020. While the company is one of the oldest, if not the oldest (founded in 2014!), it was known to have more or less stalled after its impressive successful hop of the RLV-T5 VTVL prototype in August 2019. And it had signed an agreement with JZYJ to purchase engines for the RLV-T6 for even higher km-level hops.
But the lack of money, with the last funding round dating back to 2017, and the founder and former CEO Hu Zhenyu known to be a bit too junior to be leading the company, seems to have affected the company, and it seems that investors have not renewed their confidence. Worth noting, Hu Zhenyu, the young founder who was in his mid-twenties when he founded the company, was replaced by the CTO and ex-CALT employee Chu Longfei in 2019 as CEO.
Blaine's Take
Definitely great effort from Ace, thanks a lot for pulling this together, and indeed, Space Tai, did not see that one coming! A couple of small takeaways from my side: Enter Space is an interesting one that we don't hear too much about. The Jilin-based company was founded in late 2018, and my first time coming across them was in late 2019 at the China High-Tech Fair in Shenzhen, where the company was featured in the Jilin Province booth alongside EO satellite manufacturer/operator CGSTL.
Their growth from 2019 to 2020 was apparently impressive, nearly 10x-ing from 6 employees to 50. Given their appearance at the Jilin Government Provincial booth, and the willingness of the Jilin Government to support space companies more generally, we can probably assume that they've received some assistance from the province. Will be interesting to see whether a local Jilin space cluster can develop around Enter Space and CGSTL.
Second takeaway is the concentration of launch companies, and the impact that this may have on HR. As we posted on Twitter earlier this week, China's biggest launch cluster by a wide margin is in Yizhuang, Beijing, in an area colloquially known as "Rocket Street" (火箭街). As we can see on the map here, there are ~11 launch companies with HQs in the Southern part of Beijing, with the centerpiece and largest one by far being the China Academy of Launch Vehicle Technology (CALT), the big CASC subsidiary. In the early days of the Chinese commercial space sector (i.e. 2014-2015), the only major source for space industry talent was the big SOEs, so if you were a launch company, and you wanted to find rocket scientists, CALT was the place to go. That being the case, launch companies clustered there. Over the years, we've seen a larger number of people employed by commercial companies, and a subsequent broadening of the labor pool, but the legacy of clustering around the SOEs remains. Be on the lookout in the coming weeks for a deeper dive into the Beijing space sector, but for the meantime, we move onto a couple of announcements from commercial satellite manufacturer Spacety.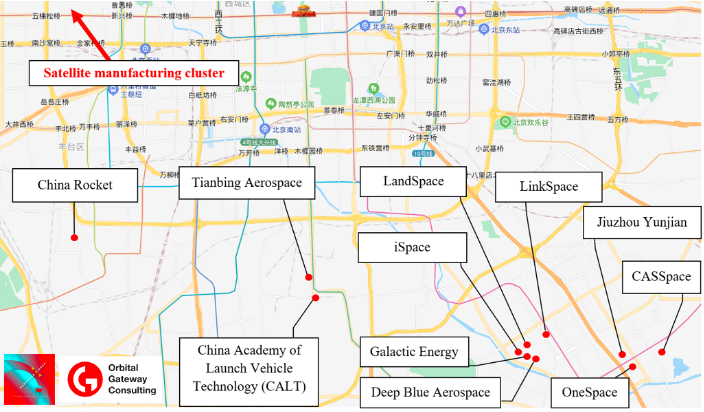 2) Spacety and T4i Announce Collaboration
Blaine's Take
Chinese commercial satellite manufacturer and constellation operator Spacety announced, via its subsidiary Spacety Luxembourg, a collaboration with Italian satellite component manufacturer Technology for Propulsion and Innovation (T4i). To review, Spacety manufactures a variety of satellites, and offers, among other things, a "Satellite as a Service" business model which allows for " In-Orbit Demonstration/Verification (IOD/IOV) and satellite hosting with low-cost, mature and reliable 6U and 12U satellite platforms and frequent flight opportunities". Essentially, there are many new space companies, these companies are building many different types of widgets, and these widgets all need to be verified in space. Access to space remains not so straightforward, so Spacety is offering a service of offering space on a satellite to test your product. The most noteworthy example of this in an international context was the collaboration between Spacety and French electric thruster company ThrustMe.
T4i is an Italian company that develops, among other things, propulsion systems for smallsats to "make your satellite dance in space" (I love it). This includes monopropellant hydrogen peroxide thrusters, bipropellant HTP/kerosene thrusters, and hybrid thrusters, offering up to 10kN of thrust. Based in Padua in Northern Italy, the company's customers include Tyvak Systems.
The collaboration with Spacety Luxembourg appears to be similar to Spacety's collaboration with ThrustMe, in that the companies will seemingly install one or more T4i thrusters on one or more Spacety satellites for in-orbit testing and verification. According to Spacety Luxembourg CEO James Zheng Wanping, the company's frequent launch cadence provides them with an edge, as Spacety is known to launch satellites every couple of months.
The deal has two main components. First, T4i is able to test their thruster on a different platform in orbit, which will allow them to better understand performance. Second, Spacety can test what could be a thruster supplier for the company's planned SAR EO constellation, which will require a lot of thrusters. Interestingly, even though T4i is the one sending a product to Spacety, it appears that T4i is the customer, and Spacety the supplier, with Spacety providing what is presumably competitively-priced, and also near-term access to space for T4i.
Moving forward, this is going to be a business model to watch from Chinese commercial space companies. As more Chinese commercial launch companies mature, the country's launch cadence will only increase, and launch prices only decrease, which will make it easier for Chinese satellite manufacturers to procure rapid, low-cost access to space. Given the explosion in commercial space companies in recent years, the number of widgets to be tested on-orbit is unlikely to decrease anytime soon. Given the relatively few launches coming from Europe today, many European companies may find it advantageous to launch on Chinese satellite platforms, though with several promising European launch vehicle startups also reaching advanced stages, this dynamic may not last forever.
Ultimately, an interesting example of collaboration between a Chinese commercial space company and a European one, and likely not the last time we hear from Spacety Luxembourg.
Jean's Take
Interesting news, Spacety and T4i. Before moving on to our next piece news, I just want to add that Spacety was also in the news this week as they announced the completion of in-orbit verification tests of their Beihangsat-1 satellite launched in Nov 2020 on a Long March 6.
This 12U cubesat had an ADSB payload and was designed in collaboration with  Sichuan Jiuzhou Air Traffic Control Technology Co. (四川九洲空管科技有限责任公司), and the experiment was led by the National ATC New Navigation System Technology Key Laboratory (国家空管新航行系统技术重点实验室).
ADSB (Automatic Dependent Surveillance–Broadcast) is an essential technology in aviation, it enables traffic control to know where an aircraft is and its navigation parameters. Aircraft continuously broadcast ADSB signals, which are then collected by ground stations. Space-based ADSB, where ground stations are replaced by satellites, enable a coverage over oceans and remote areas, definitely eliminating any black-out zones.
3) The second spacewalk (EVA) of the Shenzhou-12 crew
Jean's Take
In the early morning of Friday August 20, China's Shenzhou-12 crew composed of Nie Haisheng, Tang Hongbo, and Liu Boming performed their second EVA, which lasted over 6 hours. As opposed to the first EVA in June where the EVA was performed by Tang Hongbo and Liu Boming, this time it was Nie Haisheng and Liu Boming who left the multidocking node to work in the vacuum of space. Tang Hongbo this time remained inside, with the role of assisting his colleagues from the command center of the Tianhe-1 module.
Similar to the previous EVA, the robotic arm served as a work station for one of the taikonauts to move around (Nie Haisheng), while the other used the ramps to get from one place to another..
For this second EVA, the main objectives were to:
Install an external pump module for the space station's thermal control system. Thermal control is essential for the control of the temperature inside the cabin, but mostly also because in the vacuum of space, temperature differences between areas exposed to the sun and areas that are shadowed are extreme: they can go below -100°C and above 150°C. To guarantee that the space station lifespan of at least 15 years, the thermal control system smooths these wide temperature jumps.
The module that was installed by the taikonauts allegedly contained the hydraulics and electronics all in one package, enabling a relatively straightforward installation in 4 steps.
Another task was raising the panoramic camera, a task that had already been performed once during the previous EVA. The panoramic camera is situated on the smaller cylindrical module of the Tianhe-1.
The Shenzhou-12 mission was planned to last 3 months, and we are getting close to the end date.
One of the interesting operations that will be done before departure includes a radial docking attempt by the Shenzhou capsule. This is a first, as previous spacecraft were essentially docked axially, which is rather easier due to the way orbital mechanics work.
After that, in mid-september, the crew of the mission will depart on-board the Shenzhou spacecraft, to perform a reentry into the atmosphere and land in the Dongfeng landing site in the Siziwang Banner of Inner Mongolia.
This has been another episode of the Dongfang Hour China Aero/Space News Roundup. If you've made it this far, we thank you for your kind attention, and look forward to seeing you next time! Until then, don't forget to follow us on YouTube, Twitter, or LinkedIn, or your local podcast source. 
Blaine Curcio has spent the past 10 years at the intersection of China and the space sector. Blaine has spent most of the past decade in China, including Hong Kong, Shenzhen, and Beijing, working as a consultant and analyst covering the space/satcom sector for companies including Euroconsult and Orbital Gateway Consulting. When not talking about China space, Blaine can be found reading about economics/finance, exploring cities, and taking photos.
Jean Deville is a graduate from ISAE, where he studied aerospace engineering and specialized in fluid dynamics. A long-time aerospace enthusiast and China watcher, Jean was previously based in Toulouse and Shenzhen, and is currently working in the aviation industry between Paris and Shanghai. He also writes on a regular basis in the China Aerospace Blog. Hobbies include hiking, astrophotography, plane spotting, as well as a soft spot for Hakka food and (some) Ningxia wines.