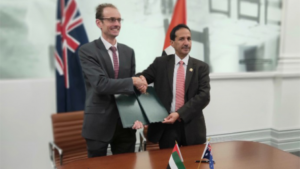 The Australian Space Agency (ASA) has entered into a Memorandum of Understanding (MoU) with the United Arab Emirates Space Agency, facilitating closer international partnerships in the space industry sectors.
Deputy Head of the Australian Space Agency, Mr. Anthony Murfett said the MoU signing was another milestone for the Agency, demonstrating a commitment to fostering Australia's growth in the global space economy.
"The agreement will facilitate cooperation across shared areas of interest, including exchange of best practice, and support academic and research capability," Mr. Murfett said.
"As nations head into space these alliances build on our current areas of competitive advantage, like the use of satellite data in Earth Observation, and help develop our future workforce to boost economic growth.
"This MoU is part of the Australian Space Agency's broader mission to triple the size of Australia's space sector to $12 billion [U.S.$8.53 billion] a year and create up to 20,000 new jobs by 2030."
The signing of the Agency's fourth MoU took place on 14 February 2019 on the grounds of the Australian Space Agency's new home, Lot Fourteen in Adelaide, which will host local space industry businesses and support the growing defence industry sector.
"Nothing inspires our next generation quite like space. Working with partners who are rapidly building new capabilities in space and also combining exciting fields like nanotechnology and telemedicine with space exploration will help nurture new areas of opportunity for our future space industry," Mr Murfett said.
Director General of the UAE Space Agency, His Excellency Dr. Mohammed Nasser Al Ahbabi, also welcomed the agreement.
"This agreement builds on the longstanding bilateral relationship between the UAE and Australia, and we are delighted to be working with the Australian Space Agency with whom we share much in common as relatively young entrants into the international space community. We are firm believers in the importance of international cooperation and collaboration in space," said Dr. Al Ahbabi.
The Australian Government is investing $41 million (U.S.$29 million) over four years to establish and operate Australia's first-ever national space agency and more than $260 million (U.S.$185 million) to develop world-leading core satellite infrastructure and technologies.