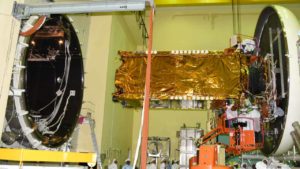 Gilat Satellite Networks Ltd., a worldwide leader in satellite networking technology, solutions and services, has announced that it was awarded a multi-year contract to provide equipment and services for broadband connectivity over ISRO's GSAT-11 across India. Larsen & Toubro (L&T), an Indian multinational company engaged in technology, engineering, construction, manufacturing and financial services, chose Gilat to supply the ground segment and operate four gateways.
The Indian Space Research Organization (ISRO) launched the multi-spot beam satellite GSAT-11 last month, to provide broadband coverage over India's mainland and islands, boosting connectivity to rural India and chose L&T to supply, install, commission and maintain GSAT-11 ground system network. GSAT 11 will enhance public welfare systems like e-banking, e-health, e-governance as well as provide a platform to demonstrate new generation applications.
L&T chose Gilat's multi-application SkyEdge II-c platform to deliver broadband services across the country. Gilat's hubs will be placed and operated in the following main and diversity gateway sites in India: Ranchi, Delhi, Ahmedabad and Bangalore.
"We are gratified by the trust L&T put in Gilat to deliver the baseband equipment and services for the GSAT-11 satellite," said Abhay Kumar, Regional Vice President Asia and North America at Gilat. "This is another testimony to Gilat's superior solution being chosen by satellite operators worldwide to deliver plentiful, quality and affordable satellite-based broadband communication."
Larsen & Toubro is an Indian multinational engaged in technology, engineering, construction, manufacturing and financial services with over U.S.$18 billion in revenue. It operates in over 30 countries worldwide. A strong, customer–focused approach and the constant quest for top-class quality have enabled L&T to attain and sustain leadership in its major lines of business for eight decades.