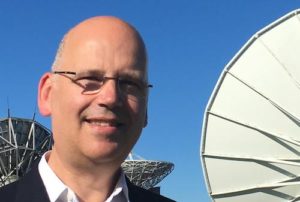 In this Space Café UK edition, the neuco team of Laurie Scott, Andrew Ball and Ewan Lawrenson spoke with UK space leader, Ian Jones, about the past, present and future of UK Space.
A leader in UK Space
Ian Jones is CEO of Goonhilly Earth Station and Chairman at Satellite Applications Catapult. He is seen as one of the UK senior experts in satellite and space. His considerable efforts to save Goonhilly have led to a reenergised Earth Station, one that is now at the forefront of UK space and beyond.
Goonhilly is the oldest satellite earth station in England and home to Arthur, built to receive the signal from Telstar, the first communications satellite.
Currently contributing to deep space missions such as ESA's Mars Express with more exciting projects in the pipeline, such as Pathfinder and Moonlight, Goonhilly continues to support pioneering projects that capture the imagination and promises to remain critical to innovative space endeavours far into the future.
Pathfinder, Moonlight and Goonhilly
Hot off the press, Ian discussed the newly announced ESA Moonlight mission, Goonhilly's role within it, and reflected on how Pathfinder, an endeavour proposed by Goonhilly and Surrey Satellite Technology was a precursor to the larger Moonlight mission.
Moonlight is a program designed to provide communications and navigation around the moon, explained Ian, and so it will be well positioned to assist a number of space agencies and private companies who are starting to announce that they will be going to the moon in the next few years.
The state of UK Space
In discussing the UK's commitment to succeed in capturing 10% of the overall space economy market, Ian explained how very recently a report of the size and health of the UK space industry was published of pre-COVID data that is showed growth but not necessarily fast growth. Factors such as Brexit and COVID have inevitably impacted the market and it will be interesting to see how.
Ultimately, as Ian explained, the UK desire to capture 10% of space turnover has been a challenge not just to the UK but also other certain agencies and private companies who have listened to that challenge and tried to meet that target themselves.
There have been great dialogues between industry, academia and government in relation to new initiatives coming through, and that is very helpful for the industry, said Ian. One constant theme and a promising sign is each new government's unwavering commitment to space, he explained.
Enabling the next generation
Asked about what Goonhilly is doing to enable the next generation of space leaders, Ian responded with a plethora of great initiatives and explained how they are in the business of both inspiration and aspiration.
Specific engagements include a number of school visits and a week where all engineers at Goonhilly are grounded and STEM week is declared, opening the doors to students and running a series of training courses, going into great detail without the pressure of exams or tests!
Further to this, Goonhilly take part in a tremendous program called the DARA project, Ian explained. This sees them working with 10 countries across Africa, teaching radio astronomy and entrepreneur and communication skills to physics graduates who then come to the UK, study at a partner university, engage in PHDs, courses and training, and return to Africa to apply their learned skills.
Other discussion points
Aside from the above, other topics of discussion included the incredibly story of Ian rescuing and restoring Goonhilly, the situation with UK Space Ports, additional Goonhilly capabilities and advice on how to enter the industry.
To listen to this Space Café UK insight into the space industry, you can watch the full program here:
Space Cafe is broadcast live. To subscribe and get the latest on the space industry from world-leading experts visit – click here.