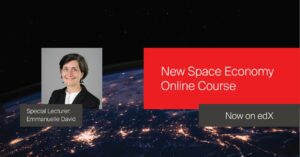 By Nina Walker
Edinburgh, 6 April 2022. – Space4Impact, EPFL's Space Center eSpace, E2MC Ventures, and Space Innovation joined forces to launch an online course on the New Space Economy. The program is available on edX as a free EPFLx course. Learners can watch more than 30 video lectures by space experts from various domains within startups, academia, the private sector, and public institutions in Switzerland.
The first week of the course is introducing learners to the past and future of the space sector. It kicks off with a lecture by former Astronaut Claude Nicollier about the history of space exploration and the opportunities & challenges of the new space economy. Raphael Roettgen, one of the organizers of the course, a space VC and founder of E2MC Ventures, will talk about emerging trends in the space sector and how the reduction of costs to access space is changing the industry.
Another organizer of the course, executive Manager of the EPFL Space Centre (eSpace) Emmanuelle David is diving into the topic of transportation to space. Check out the video below, in which Emmanuelle explains where, how and with whom you can go to space. Chloé Carrière, host of the Galactic Chloé Show, gives you an overview of the exciting future space missions to come.
As a recurring lecturer of the course, Andrea Alberti, co-founder of Micos, from PMOD, is giving her first lecture on the main space infrastructures that orbit out planet. After learning about the history and new trends in the space sector, Nanja Strecker, the head of the ESA BIC Switzerland, explains the learners how they themselves can join the European space startup ecosystem with the support of the European Space Agency.
If you wish to sign up to the free New Space Economy course, visit the site by clicking here.