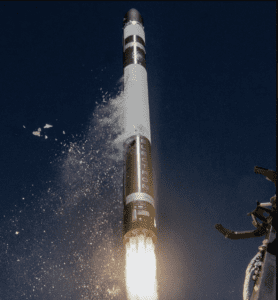 Edinburgh / Long Beach, 7 April 2022. – Launch and space systems company Rocket Lab USA, has announced that it will attempt a mid-air helicopter capture of the Electron launch vehicle for the first time during its next launch, a commercial rideshare mission scheduled for 19th April with a 14-day launch window.
The "There and Back Again" mission is the company's 26th Electron launch, which will lift off from New Zealand's Māhia Peninsula. Electron will deploy 34 payloads from commercial operators like Alba Orbital, Astrix Astronautics, E-Space, Unseenlabs, and Swarm Technologies. The launch will take place via launch services provider Spaceflight bringing the total number of satellites deployed by Electron to 146.
Rocket Lab will endeavor a mid-air capture of Electron's first stage as it returns from space for the first time. The catch will be attempted with a customized Sikorsky S-92. The large twin engine helicopter is typically used in offshore oil and gas transport and search and rescue operations.
The highly complex operation demands extreme precision. The recovery mission profile includes the helicopter moving into position in the capture zone. About 2.5 minutes after lift-off, Electron's first stage will begin its descent back to Earth. It is expected to reach speeds of almost 8,300 km/h temperatures of about 2,400 degrees Celsius. The stage will be slowed down to 36 km/h with the help of parachutes. Rocket Lab's helicopter will attempt to capture the parachute line via a hook and transport the stage back to land.