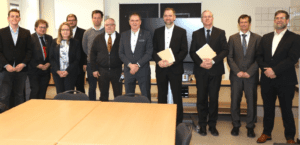 Edinburgh / Munich, 6 April 2022. – Digital transformation company Atos, and the European multi-national space technology company OHB, have been awarded a contract by the German Federal Office of Bundeswehr Equipment, Information Technology and In-Service Support to supply the "Space Situational Awareness Center Expansion Stage 1" to the German Federal Armed Forces. 
The companies will take part in creating a Space Situational Awareness (SSA) system to protect the county's space infrastructure. The SSA system will assess the space situation, map all satellites on orbit and monitor them. This will enable collision avoidance between spacecraft and make it easier spot satellite failures.
The joint Atos-OHB solution will be developed in Germany using European products. OHB is to add an operational layer on top of each individual software module, providing interoperability. This will ensure that the solution will be compatible with other space organizations and governments in Europe. Atos is going to integrate the software and hardware components into the system.
The SSA Center will operate under the joint leadership of the German Center for Air Operations and the German Aerospace Center – Space Management.