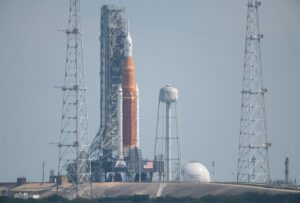 Edinburgh, 6 April 2022. – After an earlier issue with delays of gaseous nitrogen supply required for tanking preparations and resolving an issue with malfunctioning fans that caused the first wet dress rehearsal to come to a halt, the second attempt had to be cancelled halfway through as well.
The Artemis I team ended Monday's attempt after partially loading liquid oxygen into the Space Launch System's core stage tank. A temperature limit issue for the liquid oxygen delayed the second countdown by several hours. Because of this, the team could only fill the tank to 50% before the launch director stopped the test. 
Liquid oxygen is an extremely cold (cryogenic) propellant which has to be maintained at minus 297 degrees Fahrenheit. During cooldown of the system, there was an issue with the core stage vent valve's control panel. The vent valve is crucial in relieving pressure from the core stage during tanking. After investigations, the team found that the valve was configured physically in a closed position. This prevented it from being controlled remotely to an open position, which has since been corrected. 
Despite both wet dress rehearsals having been called off, they provided the teams valuable opportunities for training and testing. The wet dress rehearsal is the last major test before launch, allowing for a thorough check up. The next such rehearsal is yet to be scheduled but he Artemis I team.