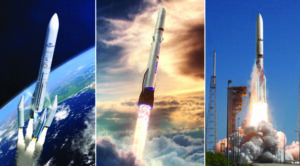 Edinburgh, 6 April 2022. – Amazon announced it signed launch service contracts with three commercial launch companies, Arianespace, Blue Origin and ULA (United Launch Alliance) for 83 launches altogether over a five year period. 
Arianespace will perform 18 Ariane 6 launches for Amazon's Project Kuiper over a period of three years under the contract. Of these launches, 16 will be carried out with an advanced version of the Ariane 64. Blue Origin's New Glenn will perform 12 launches, with options for up to 15 additional ones. The agreement includes 38 launches on ULA's Vulcan Centaur rocket as well. 
These contracts are in addition to Amazon's existing deal with ULA for nine launches on Atlas V vehicles. They are also in addition to two RS1 launches from ABL Space Systems to deploy the prototypes KuiperSat-1 and KuiperSat-2. Amazon contracted Beyond Gravity (formerly RUAG Space) to develop a system to securely deploy the satellites at the correct altitudes.
Amazon's Project Kuiper will provide high-speed, low-latency broadband to unserved and underserved communities worldwide at an affordable price. The constellation will comprise 3236 satellites.