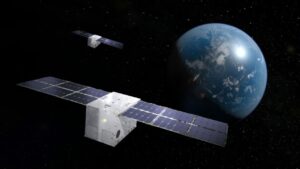 Edinburgh, 5 April 2022. – Lockheed Martin has released an open-source, non-proprietary interface to help standardize on-orbit docking. The company published the Mission Augmentation Port (MAP) interface standard online to support industry approaches to on-orbit servicing and mission augmentation, Lockheed said.
The MAP standard provides a mechanical interface design for docking spacecraft to one another. The satellite adapters enable new mission capabilities to a platform after launch. Lockheed's Augmentation System Port Interface (ASPIN) is designed to be compliant with the newly published standard. ASPIN provides electrical and data interface between a host spacecraft and a satellite augmentation vehicle. The technology allows for upgrading operational spacecraft and provides built-in servicing infrastructure for spacecraft on orbit.
Anyone can use the standard released by Lockheed to develop their own MAP-compliant docking adapters. The firm decided to publish the documents after recognizing the need to reconfigure hardware capabilities to meet evolving mission needs.
Mission upgrades enabled by the technology could include processors, mass storage, or sensors that add longevity and value to missions. It also allows for the prototyping and testing of new capabilities on host spacecraft at a lower cost, the company said.