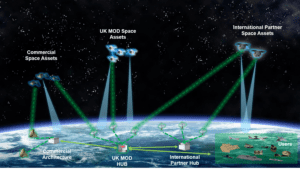 Edinburgh, 5 April 2022. – Surrey Satellite Technology (SSTL) has signed a £22 million contract with Defence Equipment and Support on behalf of UK Space Command for a 150 kg satellite based on SSTL's Carbonite+, SSTL said. The project is named TYCHE and it is the first satellite procurement for the MINERVA programme. MINERVA plays a vital role in the development of a British Space-based Intelligence Surveillance & Reconnaissance (ISR) constellation under the ISTARI programme. 
The satellite will take three years to build. The TYCHE mission is planned to be compatible with both horizontal and vertical launch vehicles. TYCHE will be operated from SSTL's Spacecraft Operations Centre in Guildford. 
The key outcome of project is expected be the analysis of the integration activities, test environments and interfaces. All these are required to establish UK Ministry of Defence rights to freely operate a space based ISR capability. TYCHE also aims to understand security requirements and risks to identify further activities necessary to improve the ISTARI ISR.
About 100 SSTL employees work directly on the project which also grants increased opportunities for UK start-ups, and other enterprises.