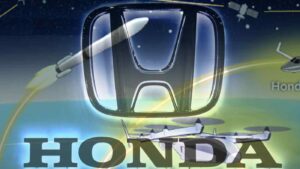 Edinburgh, 5 October 2021. – Honda Motor is entering the small satellite launch business and is aiming to launch a test rocket by 2030, the Japanese car company announced. As the car industry shifts to electric vehicles and the demand for satellites grows, they will apply their automotive technologies to space.
Honda claims that their satellite launch costs will be small due to reusable rockets. They are also planning to develop a small rocket capable of carrying payloads weighing less than one ton. The carmaker says it will spend 5 trillion yen (44 billion USD) on research and development over the next six years. Their rocket will carry communications and ground observation satellites into LEO. The company started working on a launch vehicle at the end of 2019 and already has a prototype engine.
Honda said that they would develop electric vertical take-off and landing (eVTOL) vehicles as well. They claim that the use of hybrid power systems combining combustion engines and electric motors, could extend the range of eVTOL cars to 400 km. The firm will first commercialise these vehicles in North America after 2030.