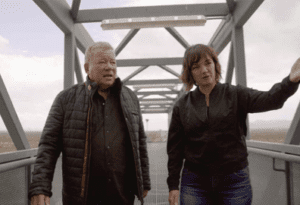 Edinburgh, 5 October 2021. – Actor William Shatner and Audrey Powers, Blue Origin's Vice President of Mission & Flight Operations, will fly on board New Shepard NS-18, Blue Origin said.
They will join Chris Boshuizen and Glen de Vries for the flight taking off on 12th October.
Shatner's career has spanned 60 years and includes the role of "Captain James T. Kirk" for the television series Star Trek. Shatner is currently the host and executive producer of The UnXplained on The History Channel. With 90 years, hjmoe will become the oldest person to have flown to space.
Meanwhile, the Federal Aviation Administration (FAA) is reviewing recent safety allegations at Blue Origin raised in an essay by a group of employees. Blue Origin has conducted eight New Shepard missions in total, with the last one being its first crewed flight on 20th July.
Later today, a Russian actress, and a film producer will launch towards the ISS along with a cosmonaut, to film segments for a movie. Actress Yulia Peresild and producer Klim Shipenko will dock to the station's Rassvet module. The hatches between the Soyuz and the station will open after just two hours of docking. They will then join ESA, NASA, JAXA and Roscosmos astronauts already on board.
Peresild and Shipenko will spend 12 days on the ISS, filming segments for a movie titled "Challenge". They will return to Earth on 16th October on the Soyuz MS-18 spacecraft, currently docked at the space station.