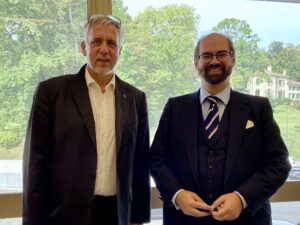 In this Space Café Radio – on tour in Geneva, SpaceWatch.Global Publisher Torsten Kriening spoke with Ambassador and Permanent Representative to the Conference on Disarmament at the UK Mission Geneva Aidan Liddle during the UNIDIR Outer Space Security Conference 2021 about the UNGA Resolution 75/36. For more background of the resolution, please find useful information here and here:
https://undocs.org/en/A/RES/75/36.
Space Cafe Radio brings our talks, our interviews, our impressions to you. In this format, you will hear conversations or the entire team of SpaceWatchers while being out on the road. Each show will have a specific topic, unique content and a very personal touch. Enjoy the show format and let us know your input to [email protected] .