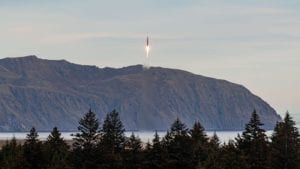 Alameda, California/ Kodiak, Alaska, 12 September 2020. – Californian-based Astra's first orbital launch attempt was successful at lift-off but had to be shut down shortly after, the company said on Saturday.
"At 8:19pm PT, Rocket 3.1 left the Alaskan coast at Astra's Kodiak launch site," the company said in a blog post. However, "(e)arly in the flight, our guidance system appears to have introduced some slight oscillation into the flight, causing the vehicle to drift from its planned trajectory leading to a commanded shutdown of the engines by the flight safety system. We didn't meet all of our objectives, but we did gain valuable experience, plus even more valuable flight data," Astra said.
"We're excited to have our first orbital attempt under our belt! As we've always said, we expect it to take three flights to make it to orbit. Tonight, we saw a beautiful launch! Preliminary data review indicates the rocket performed very well", founder and CEO Chris Kemp and founder and CTO Adam London said in the blog.
"This was our first orbital launch attempt, and the first flight of a rocket designed from the ground-up for low cost mass production and highly-automated launch operations," they said. "The entire launch system was deployed by six people in less than a week – completely unprecedented. Astra's strategy is to learn fast through iterative development. (…) Rocket 3.2 is (…) ready for another big step towards orbit."