by Ronald van der Breggen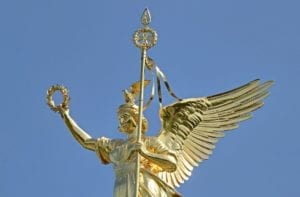 During recent dinner-table discussions over tearing down historic statues, I found myself with an unusually pragmatic view: History is to be captured in books, detailing both its glory and its gruesomeness. Statues are different. They are meant to unite and inspire the people in its communities, cities, and countries. The moment they stop doing that, and set people against each other, that's the very moment to put up a new statue. That is not erasing history; it is creating history. The history of a people moving forward and wanting to do right by all.
OneWeb's recent bankruptcy is already in the history books as a black page for the satellite industry. Their recent revival with cash infusions from the UK Government and Bharti, is history in the making. But, in light of the above, is this re-emergence inspiring enough for it to be 'statue material'?
Let's first congratulate OneWeb with this resurrection, and be happy for all current and future employees now getting an opportunity to work in this great industry. Critics have been very tough on OneWeb, and to achieve this result against such backdrop, is nothing short of a miracle. With only a fraction of the constellation launched, and absent a customer base, we are thousands of decisions away from a constellation in operation, let alone one that generates profits.
More importantly, OneWeb burned through three billion dollars in 5 years , and with 500+ satellites left to launch, in a company whose burn-rate is only going up. It is not unreasonable to expect that a new cash infusion is due in less than 12 months. The new owners are in for a challenge, and it will be interesting to see how things will unfold. Will lessons be learned or will history repeat itself?
Bharti 2.0
That Bharti is part of the team to rescue OneWeb is in itself a good thing. They were part of the initial funding of OneWeb in 2015, and it is safe to assume this has advantages. It demonstrates commitment, and the company comes with the expertise and ability to hit the ground running. Having seen OneWeb develop up close, they also know what went wrong, and should be able to avoid making the same mistakes.
Upon closer inspection though, there are a few wrinkles. Bharti did not participate in OneWeb's 1.25B$ funding round of 2019. This money was raised after a period in which OneWeb had announced their satellites to cost around 1M$ each, twice as much as the earlier announced 500K$. The total number of satellites launched would however be 650, not 1600.
Had Bharti lost confidence and stopped funding as a result? Did they already suspect how things would unfold and thought it best to wait it out? If so, good job! Their dollars bought a lot more now than what it would have bought in 2019. High-fives in the Bharti boardroom all around!
That said, OneWeb's technology and architecture have not changed, and Bharti's plans with OneWeb haven't changed either. "Delivering the promise of universal broadband" as announced last week, is an almost carbon-copy of the 2015 announcements. How can a company that invested in 2015, but had the foresight not to invest in 2019, now be stuck with a satellite that is twice as expensive while there are still 500+ left to launch?
How about this quote: "Bharti will provide commercial and operational leadership, and bring OneWeb a revenue base to contribute towards its future success". Are we to understand that the customer base that OneWeb failed to lock-in, despite 5+ years of sales efforts, will now simply be brought in as part of the bid? As unbelievable as that may sounds, it is could be possible with Bharti's daughter Airtel.
If Bharti's investment is largely geared towards OneWeb providing mobile backhaul for Airtel, that would explain a lot, as it would be history repeating itself. In 2015 OneWeb's original backer Softbank, tried to solve that very same problem for its daughter Sprint. It was said at the time that Softbank's 2B$ investment was to have OneWeb address an immediate backhaul opportunity in the US. OneWeb had promised to be operational in 2019, that of course did not happen. Is Bharti now betting on that same horse with Airtel? If that is the case, with so many satellites still to launch in a constellation not designed for backhaul, and another cash infusion required within a year, Bharti is far away from a slam-dunk.
HMG or OMG?
That the UK Government is buying a part of OneWeb was a surprise to me. We are of course all familiar with governments buying and launching satellites. Satellite manufacturers and operators refer to them as 'National Pride Projects'. Typically, they are buying geostationary satellites, and the latest one to join the ranks is Oman, who only a few weeks ago put out a tender for their first.
While the UK has a great space tradition, buying an entire constellation of 650 satellites is taking a national pride project to a whole new level! Granted, the 500M$ spent is within the ballpark of what a GEO would cost, but we all know this money is just the beginning.
We all appreciate that after Brexit, the UK is looking for some new elan. Admittedly, venturing further into space is a great way to do that, and by bringing all of OneWeb's manufacturing to the UK, such investment may pay off royally. With 90% of OneWeb's workforce laid off, this opportunity is real and immediate. In the long run it may well lead to a new British space ecosystem with a dedicated supply chain, research institutes, and global spin-off opportunities. As such, Keynesian economics seem alive and well, with Space as the 'public works' of the modern day. But is that really what this is about?
Having exited the EU, the UK is not part of the EU's GPS-equivalent Galileo, and as part of the OneWeb acquisition, HMG's representatives openly talked about outfitting OneWeb for GPS. Wow, that gave me a pause. Has anyone recently checked the price for a space-proven atomic clock? A decent GPS satellite has four of them, and they are the single most expensive part of such satellite.
The cost of a OneWeb satellite has already gone up from 500K to 1M and now we talk about adding GPS? That's 2600 clocks to be put on 650 satellites that only last 5 years! And has anyone done the calculations on power budget, weight, and additional launch costs? Thinking of outfitting only a part of the 650 with clocks? Congratulations, you are now launching two constellations for the price of two. One for GPS and one for communication. Ambitions are great, but unless you have NASA-sized budget from the 60's, it's probably best to keep them in check.
The road ahead
Today is about celebrating the agreement. Tomorrow is about closing the deal, and most of the work still needs to be done. There is a reason why OneWeb's senior management is handsomely paid to stay on. They will have to manage Bharti, who wants to see clear and tangible benefits from its investments. Knowing Bharti from working with them in the past, it is safe to assume they want these results fast.
Then there is the UK government. who wants to create jobs, with fantastic ambitions in space to make up for Brexit. As if tying UK's lofty goals with Bharti's call for immediate results is not already challenging enough, there is also the need for an additional investor who is ready to pump hundreds of millions into the company not long after closing.
The issues from before the bankruptcy haven't gone away either. There still is the need to sign up customers, build an extensive ground network which is needed because of the absence of inter-satellite links, and of course address the regulatory issues of not just landing rights, but full-fletched ISP licenses in each and every country where OneWeb wants to provide services.
On top of all of that, management needs to navigate these activities in a process where the UK Government is in part nationalizing this satellite company. It is clear the management team has their work cut out for them, for the sake of all UK taxpayers as well as the entire satellite industry. I really hope this new Public-Private partnership will turn out to be a success. After 5 years of burning money, it is not just OneWeb who needs that. We all do.
But there are serious challenges ahead. OneWeb is at serious risk of never becoming statue material and forever remain in the history books as a satellite money-pit. Forewarned is forearmed.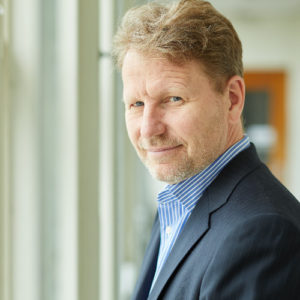 Ronald van der Breggen, Owner of Route206, has more than 20 years of experience in the telecom and satellite sectors. A native of the Netherlands, van der Breggen began his telecom career at Dutch Telecom incumbent KPN, rising to the position of VP IP Services. He then joined SES, one of the world's leading satellite operators as Vice President Customer Account Management. From 2015 to 2019 he served as Chief Commercial Officer of LeoSat, where under his leadership the company secured $2 billion in pre-launch commitments. With Route206, Ronald continues to help companies with brilliant technology to achieve commercial success through his decades of experience, structured approach and large industry network. Ronald holds a Bachelor's degree in Business Administration from Nijenrode University as well as a Masters in Business Telecommunications from the Technical University of Delft, both in the Netherlands.
This article was originally published on LinkedIn. You can read the original here.