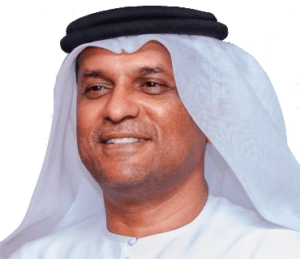 The UAE has great ambitions in space and is advancing rapidly, reaching impressive milestones all the time. This year, the UAE sent Hazza Al Mansouri, their first astronaut into space and the UAE Space Agency is developing a hyperspectral satellite as well as planning the Emirates Mars Mission. SpaceWatch.Global Editor, Swetha Kotichintala, spoke to Dr. Khaled Al Hashmi, Director of Space Missions, Science & Technology for UAE Space Agency, Director of Science and Technology Center, UAE University, during the Space Generation Congress in Washington DC. In this interview they discuss the present and future of the UAE Space program.
It's the 70th International Astronautical Congress and the 50th Anniversary of the first Apollo Moon landing. Can you tell us what it means to you and your organisation?
The Apollo missions were a milestone for the entire space community and luckily for us, this anniversary coincides with the launch of our first UAE astronaut Mr. Hazza Al Mansouri into space this year to the ISS. The Emirates Mars Mission will also be launched next year which is pivotal for UAE, so we are lucky to have such milestones, especially in terms of generating opportunities for the younger generation to get into space. Hazza's achievement has already created massive excitement in the young generation back home and we're already starting to see the inspiration permeating through.
What are the current and future plans of your organisation?
The priority right now is to successfully complete the Emirates Mars Mission, which will be launched in July 2020 and we're currently at the final environmental testing of the spacecraft. We're also working on our Low Earth Observation (LEO) satellite which is called the '813' Hyperspectral Satellite which will be the first satellite to be built in the newly established National Space Science and Technology Centre at the UAE University in Al Ain. We are going to leverage this project to collaborate with other Arabic countries that might be interested in working on the design and manufacture of the satellite along with the analytics where they could benefit from the data that will be collected from it.
Could you elaborate a bit more about your partnership plans with other Arabic countries?
The UAE Space Agency has taken the lead by establishing 'The Arabic Space Council' last year which has gained partnerships interest in about 11 Arabic countries already. We believe this is just the beginning of productive collaboration between Arab countries, and we want to encourage partnerships similar to countries in other continents, like Europe or Asia.
What is your connection with the Space Generation Congress and the Space Generation Advisory Council?
We have been following SGAC for a few years now and we have worked with them over the past 2 years. This is our 2nd year sponsoring a student and young professionals to attend SGC and we have enabled 5 of them to attend SGAC events. I think it's quite beneficial for them, especially in terms of exposure, as there are about 150 participants at the SGC this year from 51 different countries around the world to interact with. We are also sponsoring one of the working groups at SGC this year and all the interactions with the international talent have personally inspired me to think and evaluate how we could create such productive collaborations in the future. The events generate ideas from exposure to policy, international relations, science and technologies in the span of 2 days. We think it's a good model that can be applied in different areas as well.  For example, companies or organizations work in isolation, but this event opens doors for everyone on an equal, international basis and it's amazing what you can achieve.
What are your recommendations for such young, talented people in terms of establishing themselves in the space industry?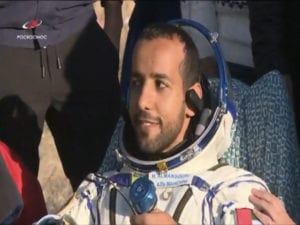 There is a misconception in our country/region that if you want to get into the space industry you need to be specialised in space-based disciplines. But one could study maths, physics, medicine, engineering etc., and still work in the space sector. It's a matter of directing or aligning your project to space and that'll open the doors. Young talent needs to get engaged with organisations such as SGAC and attend all these space conferences, network and connect with other people around the world.
Another misconception is that the work is available only with government agencies. This is no longer true. The industry is also embracing commercial players at a fast pace. In the UAE there is a lot of interest in opening commercial space-related businesses similar to Europe and the USA. We live in a new era of space and it will open a lot of opportunities. There are not enough resources to fill up these R&D positions and hence I recommend the young generation to go into the R&D based careers with universities as well, not only the government agencies.
What got you into the space industry?
The fascination with space is ageless, young or old. When I was younger I was fascinated by pilots and flying airplanes. When I got a bit older I wanted to learn more about them so I became an aerospace engineer instead. After graduation there were no jobs in space in those days as it was not in demand back home. I waited for quite a few of years for things to turn around, and in 2014 when the UAE Space Agency was established, I jumped at the opportunity to work in the space sector and I immediately joined.
What do you see is the next big challenge, for your organisation or your country?
I believe we need to prioritise our strengths as we are quite ambitious when it comes to space and we have set some ambitious milestones but one of the challenges we're facing is limited resources. This particular challenge is irrespective of the size of a country. Another challenge would be for us to focus on science and technology-based projects and identify a few technologies or areas of science which support our priorities. We have to look into where we can excel and build capabilities, obviously with international collaborations.
When are we going to see humans on the moon and what are the plans does your agency have to send humans to the moon?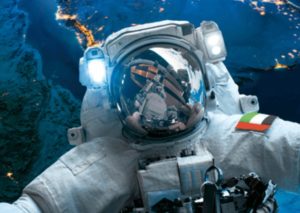 We have the Astronaut Programme which, at the moment, is structured for travel and stay on board the ISS. But this is just the initial step, not just for us but other agencies around the world as well. Having said that, I think NASA will be the first to send humans back to the moon and I'm sure other agencies and countries are working on it as well. Such a competition is what is required now as it'll give that push to accelerate the programmes. We don't have any plans to send humans to the moon at the moment. We are still developing the technologies and going through the complexities of it. Right now we're focussing on the robotics, maybe rovers or orbiters but we have not yet decided and are still brainstorming. That's a decision that is to be made by the government and we're submitting proposals.
Bio: Dr. Khaled Al Hashmi is Director of Space Missions, Science and Technology and Chief Technology Officer at the UAE Space Agency. Spearheading the national space missions/satellite programs, the program management of the UAE Mars Mission "The Hope" project, the 813 Arabic Satellite, and other small satellite projects, directing the development and implementation of the national Space Science & Technology and Innovation roadmap across local universities and research centers. Currently leading the National Space Science and Technology Centre in the UAE University to support the development of a manufacturing facility for satellites and building local research capabilities in space science and technologies. Educated at Harvard Business School, University of Manchester and Cambridge.
SpaceWatch.Global thanks Dr. Khaled Al Hashmi for the interview.