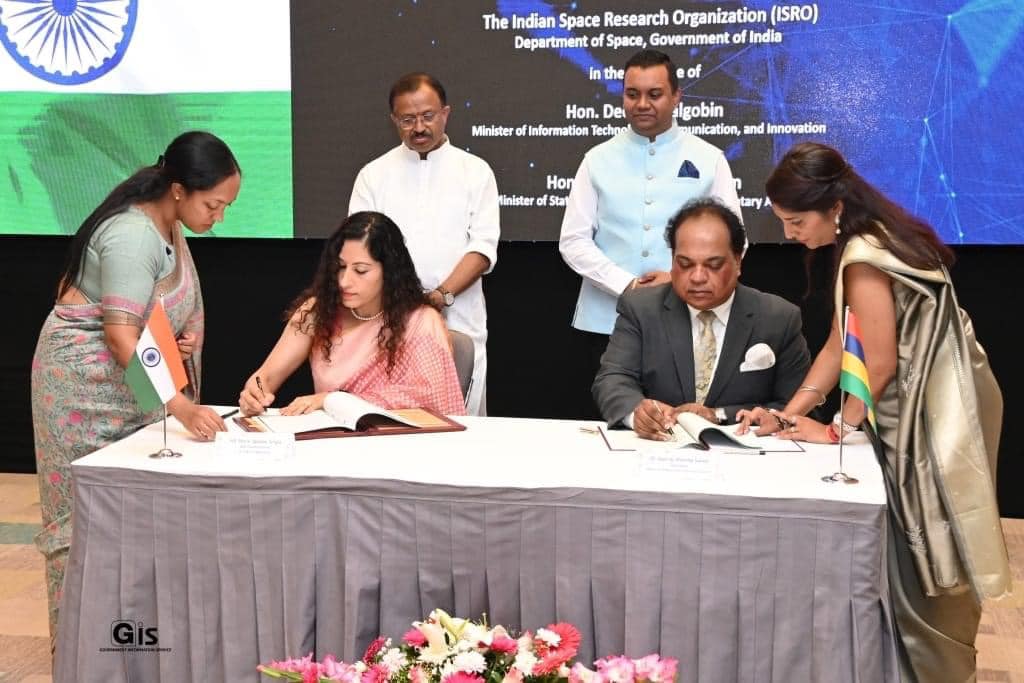 Ibadan, 7 November 2023. – The Mauritius Research and Innovation Council (MRIC) and the Indian Space Research Organization (ISRO) have signed an MoU that will see ISRO design, assemble, integrate, test, launch and operate an Earth Observation satellite for Mauritius. The signing happened in the presence of Hon. Deepak Balgobin, the Mauritian Minister of Information Technology, Communication, and Innovation, Republic of Mauritius, and Hon. Shri V. Muraleedharan, the Indian Minister of State for External Affairs & Minister of State for Parliamentary Affairs.
The agreement includes a 15-month partnership, as well as the procedures and the respective roles and obligations of each participating entity. This will consequently enable Mauritius to build further capacity in space and satellite technology, share knowledge on building and operating the small satellite and utilize the data from the small satellite for future research and development.
ISRO and MRIC will jointly perform every of the satellite's related in-orbit operations through MRIC's ground station. Furthermore, MRIC engineers will undergo training at ISRO's facilities to develop the satellite platform, associated systems, and the primary payload. Both parties will also jointly work towards registering the completed satellite with the United Nations Office for Outer Space Affairs (UNOOSA) and the International Telecommunications Union (ITU).
Mauritius launched its first satellite, the MIR-SAT 1, in June 2021, through UNOOSA and Aerospace Exploration Agency (JAXA) CubeSat Deployment program (KiboCUBE). In keeping up with its national space development goals, the East African country also signed a Framework Agreement with the Mohammed Bin Rashid Space Centre (MBRSC), UAE. The agreement entailed ensuring significant space development and satellite technology-related R&D growth.