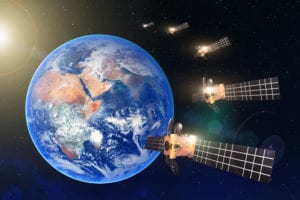 SEAKR has been awarded a Defense Advanced Research Projects Agency (DARPA) Pit Boss contract supporting the Blackjack Proliferated Low Earth Orbit Demonstration Program. Key contributors to SEAKR's Pit Boss effort are Microsoft, Applied Technology Associates (ATA), Advanced Solutions Inc. (ASI), Kythera Space Solutions and NKrypt.
DARPA's Blackjack program focuses on integrating commercial satellite technologies into a constellation of affordable, small, secure, and resilient military satellites. SEAKR's Pit Boss solution will support the BlackJack program's mission as a next generation on-board processor leveraging off-the-shelf electronics adapted through design implementation to function reliably in space. To deliver an extensible, scalable, and adaptable solution, SEAKR's Pit Boss aims to deliver state of the art processing capability incorporating autonomous operations, artificial intelligence (AI), machine learning techniques, and bridged terrestrial and on-orbit technologies.
SEAKR's processing system for DARPA's Blackjack program leverages four generations of architectural capability supporting the full spectrum of payload processing performance requirements, with a high level of on-orbit reconfigurable processing capability. Pulling from its established heritage capabilities, strength in RF communications, along with the continuous product and architectural advancement, SEAKR continues to define leading edge, state-of-practice processing systems in partnership with Government, Civil, and Commercial entities. SEAKR's previous study and prototype advancements have successfully contributed to our customer's ability to solve complex challenges imperative in advancing capability to meet today's most daunting mission objectives. Key technologies being deployed and leveraged include: ADC and DAC Technologies, FPGA-based Processing Technologies, and ASIC-Based Processing Technologies.