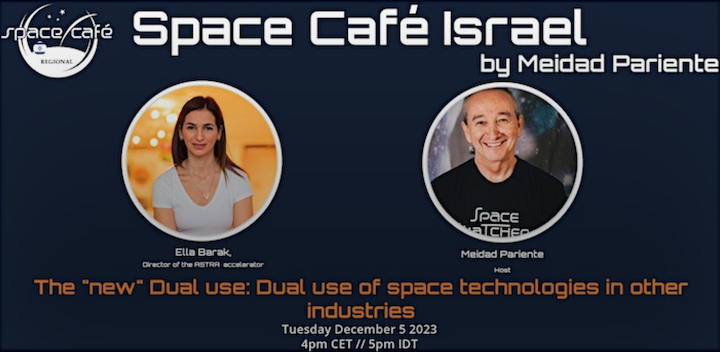 Join us at our next Space Café Israel by Meidad Pariente, – Season 2 – Episode 2, where we have the incredible honour of hosting none other than Ella Barak, Director of the ASTRA accelerator!
The "new" Dual use: Dual use of space technologies in other industries (insurance, climate change, transportation, etc.)
Ella Barak, currently serving as the Director of the ASTRA accelerator, a ground-breaking initiative in partnership with the IAI aimed at advancing innovation in the realm of space technology. With a rich background as a former Open Innovation Consultant for the Intelligence Corps in the IDF and her experience at Deloitte as Senior Consultant, Ella brings a wealth of expertise to the table. Her career is marked by a dedication to fostering innovation and facilitating strategic partnerships that have made a significant impact on the technology industry.
Ella's passion for open innovation is evident in her extensive work with start-ups and established organizations, creating collaborative environments that drive forward-thinking solutions. Beyond her professional journey, Ella is a staunch advocate for gender equality and diversity within the tech sector. Her commitment is further exemplified by her comprehensive research on the intersection of artificial intelligence and gender equality at TAU.
Meidad Pariente is an entrepreneur and innovator, with more than 25 years of experience in managing technologies. He is the CTO and Co-founder of SPACECIALIST, and Chief Engineer and Co-Founder of SKY AND SPACE Company (Nanosatellite Communication Network company). Meidad is also an experienced director and board member.
The audience will have an opportunity to ask questions in dialogue with Ella Barak.
This Space Café Israel will be conducted in English.
SpaceWatch.Global is a Europe-based digital magazine and portal for those interested in space and the far-reaching impact of the space sector.
Reserve your spot now!