By Christophe Bosquillon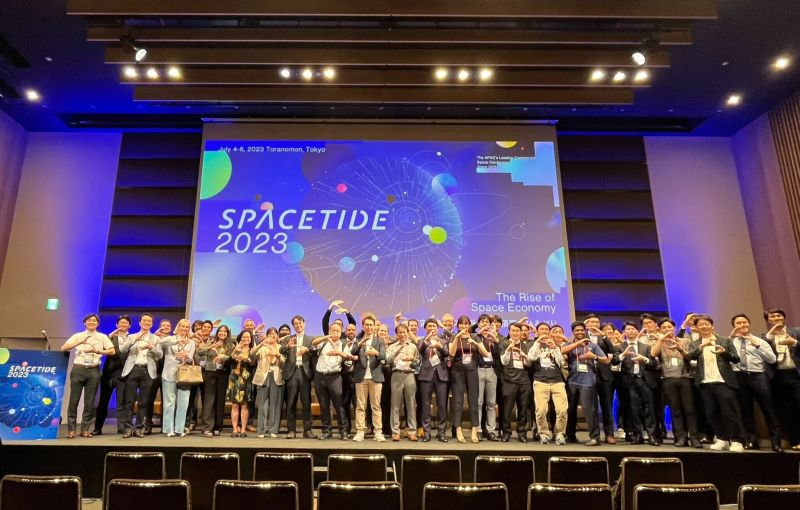 A special moment took place at the SPACETIDE conference in early July 2023 in Tokyo and online. When Takeshi Hakamada and Masayasu Ishida sat down together to reminisce their humble beginnings, the sentiment was palpable. Both had come a long way: Hakamada-san, Co-Founder & CEO of iSpace (2010), recovering from a Moon hard landing, yet looking forward confidently to the success of their next lunar mission. And Ishida-san, Co-Founder, President & CEO, member of the Board of Directors of the SPACETIDE Foundation (2015) , taking stock of the Foundation's growth experienced in less than a decade.
Time flies: the last piece SpaceWatch.Global ran on SPACETIDE was published 5 years ago with an interview of Masashi Sato, Co-Founder, COO, and member of the Board of Directors of the Foundation. As a Tokyo-based, pro bono volunteers-led non-profit organization, SPACETIDE provides a series of yearly conferences and an array of products, services, and initiatives, that aim at building a stronger Japanese and Asia-Pacific aka APAC space ecosystem.
SPACETIDE Leadership and Team
The Board of Directors of the SPACETIDE Foundation is composed of four members, who are otherwise professionally occupied in various capacities: Masayasu ISHIDA (石田 真康),  Co-Founder, President and CEO, Masashi SATO (佐藤 将史), Co-Founder, Director and COO, Shinichi NAKASUKA (中須賀 真一), Non-Executive Director, and Ryo NAKAJIMA (中島 亮), Auditor. The CEO and COO fulfil further policy responsibilities with the Japanese government: CEO Ishida-san is an acting member of the Committee on National Space Policy and has supported the Cabinet Office of the Government of Japan and other governmental agencies especially in the context of fostering commercial space businesses. COO Sato-san is a "QZSS Evangelist" of the Cabinet Office, a committee member of the "Committee of Future Space Utilization" by the Ministry of Internal Affairs and Communication, and a committee member of the "Committee of Next-gen Geosynchronous Meteorological Satellite" by the Japan Meteorological Agency. Sato-san is also a fellow writer with regular monthly articles in bizible, an online business media by Asahi Shimbun. Enabled by a couple dozen volunteers, SPACETIDE also includes a Corporate/Business Planning Department, with internationally recognized members such as Jenna Tiwana and François Poncin.
SPACETIDE conferences: a widening, diverse, more inclusive community
The conferences that started in 2015 have gradually achieved international status for both panels and audiences. In its 8th edition, the 04-06 July SPACETIDE 2023 conference, held under the concept of "The Rise of the Space Economy", attracted a record-high audience of 1,200 participants globally, with 90 speakers from 20 countries, covering topics relevant to the evolving context of Japanese space as it asserts itself within the interlinked economic, geopolitical, and security realms.
 Interventions also focused on space domain sustainable development conditions, necessary for the ecosystem to survive and thrive.
The Minister in charge of Economic Security and Special Mission Minister of the Cabinet Office, Ms. Sanae Takaichi, firmly established the rationale underwriting Japan's space strategy based on the June 2023 revised Fifth Basic Plan for Space. Two dedicated sessions were introduced, one on security matters, and one on space and diversity.
SPACETIDE reckons that « the region and its countries are characterized by their high growth potential and diversity in historical backgrounds, social systems, and space capabilities. With the aim of advancing the development of the entire regional space industry by identifying commonalities and differences, the leadership has renewed its commitment to the "New-to-Space Industry" and "APAC," which are significant features of the SPACETIDE community. »

The 2023 Tokyo and online conference has established SPACETIDE as a provider of a platform for pragmatic, business-oriented discussions on a local and regional scale under a Pax Americana leadership: US Ambassador to Japan Rahm Emanuel provided on behalf of the current Biden Administration, the customary American validation of the world's commercial space business outlook, and the position and role of its friend and ally Japan within that regional and global ecosystem.
However, multipolarity loomed large, as leaders from various countries and regions went on to elaborate on both established and emerging space domain market potentials, such as transportation systems, satellite communications, satellite data utilization, on-orbit services, commercial space stations, and Cislunar development. Furthermore, interventions also focused on space domain sustainable development conditions, necessary for the ecosystem to survive and thrive, with discussions revolving around industry architecture, sustainability, and insurance.
While SPACETIDE already leads the value creation process of "New-to-Space" industries cooperating with the space domain, the conference held its first ever pitch sessions for APAC space startups. Furthermore, the conference organized a process enabling the acceleration of space startups by facilitating talent identification and recruitment: the inaugural talent-related side event, "SPACETIDE Career Connect," numerous side meetings, and a networking event on the final night, generated a strong response from many participants on all sides involved, moving forward.
COMPASS
It has long been challenging to gather comprehensive Asia-Pacific space information and specifics about startups for trade and investment purposes: the COMPASS reports, published since 2018, have solved this problem for APAC. Besides free downloads, the couple-hundred-dollar reports provide trends analytics, and features related to the APAC space industry, together with granular market and corporate data, that are based on SPACETIDE's unique network of space startups and funding-related databases. In addition to startup data in Japan and APAC, the latest issue, "COMPASS Volume 8", also provides updated analytics of the latest investment and fundraising rounds in Japan. The report introduces two new items: an analysis of services in the space data and technology utilization area, and a feature on APAC startup policy and relevant space and trade & investment legislation in key countries.
AXELA
AXELA is Japan's first discovery and acceleration program focused on promising seed-stage space startups and on boosting their presence in APAC. Over four months, the AXELA program includes matching support, financing opportunities, and a customized itinerary for each startup, based on strong mentorship. By leveraging its network of industry participants, VCs, but also its sponsors and media stakeholders, SPACETIDE's AXELA aims to build momentum and create a new ecosystem for the space industry that is a strong enabler of startups and innovation in APAC.
SPACETIDE launches SIFA, the Space Industry Federation for Asia
APRSAF "Asia Pacific Regional Space Agency Forum", established 30 years ago in 1993 by Japan to enhance space activities in APAC, is organized by the Japanese Ministry of Education, Culture, Sports, Science and Technology (MEXT) and JAXA. Space agencies, governmental bodies, international organizations, private companies, universities, and research institutes from over 40 countries and regions, take part in APRSAF, including countries from Latin America, Africa, and Europe. That makes it the de facto largest space-related conference in the Asia-Pacific region. The other arrangement aiming to represent the regional space industry is the Asia Pacific Space Cooperation Organisation (APSCO), an inter-governmental organization headquartered in Beijing.
When Takeshi Hakamada and Masayasu Ishida sat down together to reminisce their humble beginnings, the sentiment was palpable.
The goal of the APRSAF is to provide opportunities to set up concrete international cooperation for space activities: to that end, since 2019, SPACETIDE has been conducting the Space Industry Workshops (SIWS) with a focus on public-private partnerships in commercial space, making it the first of its kind in the history of APRSAF. Last year 2022, the SPACETIDE SIWS was held in Hanoi, Vietnam, and brought together over 150 participants from about 20 countries and regions. With the private sector's participation reaching an all-time high, SPACETIDE SIWS established itself as a recognized platform for discussing commercial space in APAC.
Meeting once a year being insufficient, to facilitate continuous discussions and effective initiatives, SPACETIDE established the Space Industry Federation for Asia (SIFA) as the organizer. The members of SIFA consist mainly of leaders representing various countries in the APAC region, aiming to voice the opinions of the APAC space industry in APRSAF / SIWS. The SIFA's kickoff event took place on 03 July 2023 one day before the SPACETIDE conference and held the first "APAC Commercial Space Roundtable", conducting workshops to share the status, challenges, and growth potential of commercial space industries in different countries. The second Roundtable, held on 25 August 2023, discussed concrete initiatives to resolve previously identified common issues. This led to the Space Industry Workshop (SIWS) event at APRSAF 2023 29th conference, held in Jakarta, Indonesia on 19-22 September 2023. Co-organized by MEXT, JAXA, and the Indonesian government's National Research and Innovation Agency (BRIN), the 29th conference reviewed the above outcomes across various subcommittees and a plenary session attended by high-ranking officials from regional governments and space agencies.
SPACETIDE representatives Masayasu Ishida and Jenna Tiwana participated in these sessions, first the Space Industry Workshop (co-hosted by JAXA and SPACETIDE), with dialogues about industry development between BRIN (Indonesia), ASA (Australia), JAXA (Japan), and GISTDA (Thailand), and a discussion on common APAC challenges and solutions, featuring SpaceIn from Malaysia, KARI from Korea, PSN – Indonesia's first private satellite communication company, and Starburst Aerospace Singapore.
Next, a pitch session by private companies addressing social issues in the APAC region took place, including Indonesia's PSN tackling the digital divide, Nafas addressing air pollution, IHI and Sumitomo Forestry reducing methane emissions, Axelspace focusing on disaster prevention, KaleidEO enhancing agricultural efficiency, Skylo improving logistics and IoT through mobile satellite communication, LatConnect60 optimizing resource mining, and Swedish Space Corporation supporting climate change observation with satellite image analysis tools. A roundtable discussion wrapped up three workshops: enablers for the development of the space industry; collaboration within the APAC region and international partnerships with the West; the importance of collaboration between the space industry and other industries.
SPACETIDE furthermore intervened in the Space Policy and Law Working Group (APRSAF Subcommittee Session), with an overview of APAC's commercial space policies and a presentation of legal and policy-related discussions from SIFA; and in a Plenary Session on the development of the space economy through regional partnerships, with representatives from ASA (Australia), PSN (Indonesia), GISTDA (Thailand), PhilSA (Philippines), OSTIn (Singapore), and UK Space Agency sharing their countries' definitions of Space Economy and their ongoing space-related policies.
IAC 2023 Baku: IAF welcomes SPACETIDE as a new member
During the IAC 2023 in Baku on 2-6 October, the IAF General Assembly announced that it had approved SPACETIDE's application for membership, a milestone for the international expansion of the Foundation.
In CEO Ishida-san's own words: "SPACETIDE is a Tokyo-based nonprofit organization with a mission to create and orchestrate an ecosystem for the Asia-Pacific space industry. We are driving a large and diverse community by connecting governments, large corporations, startups, professionals, and various terrestrial industries. We look forward to contributing to the IAF community by providing an APAC perspective and working with various organizations and global leaders!"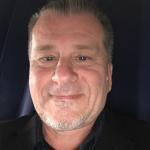 Christophe Bosquillon has a diverse professional background, having operated globally with a focus on the Indo-Pacific region. His experiences in Japan, the Koreas, Taiwan, China, ASEAN, India, Russia, and Australia have given him a deep understanding of the multipolar realpolitik of our world under the Pax Americana. With a background in engineering, trade, and foreign direct investment in industries relevant to Space Resource Utilization (SRU), such as mining, transportation, energy, manufacturing, agrifood, environment, and digitalization, Chris is committed to developing SRU value chains that benefit the Earth. As an executive, owner, writer, and founder of Autonomous Space Futures Ltd, Chris has extensive experience in collaborative policy crafting and works to develop space business and governance models relevant to society. He is a member of NGOs that provide input to the United Nations Committee on the Peaceful Uses of Outer Space (UNCOPUOS) legal subcommittee Working Group on Space Resources. Chris contributes to regulatory clarity on appropriation, priority, sustainability, and sharing in a way that balances national interests with civil society inclusion, provided a transparent due process is followed. When advocating for access to technology and space for the Global South, Chris believes that emerging space powers' participation in space markets must be commensurate with their interest and involvement in international space politics. He believes that their ability to develop sovereign domestic capabilities with spillover potential is also essential. Chris is keen on 'Peace Through Strength' diplomacy and deterrence-based security as enablers of secure space access. He supports sovereign cislunar space situational awareness as mandatory for freedom of circulation in the space domain and deconflicted cooperation on the Moon.