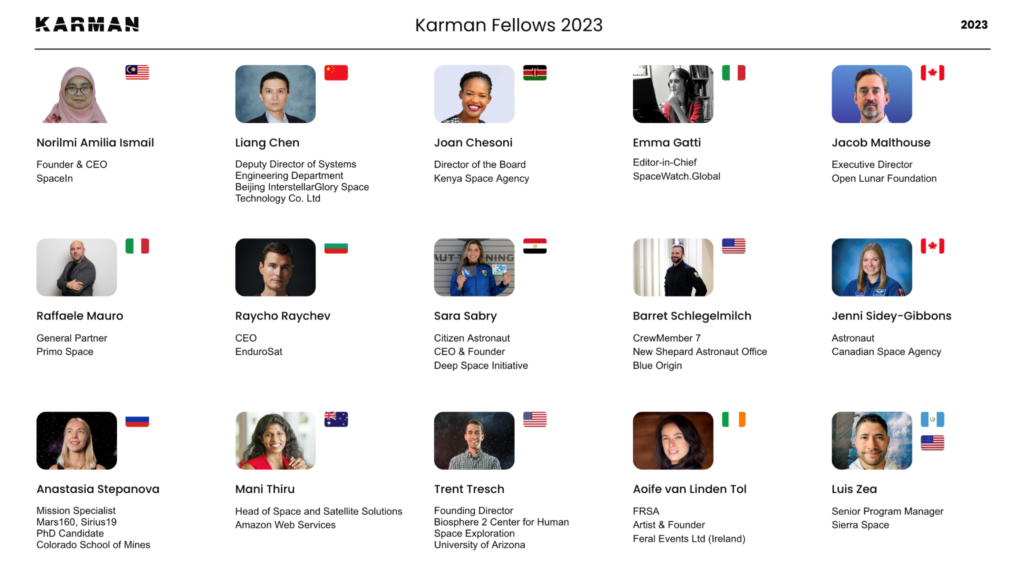 London, 19 May 2023 – The Karman Project has announced the 15 global space leaders selected for the 2023 edition of the Karman Fellowship program. The Fellows of 2023 have been selected from over 300 candidates, and represent 12 nationalities and 6 continents, who will be joining a growing network of Karman Alumni. Amongst the fellows selected is SpaceWatch.Global Editor in Chief, Dr. Emma Gatti.
The 2023 fellows are: Norilmi Amilia, Liang Chen, Joan Chesoni, Emma Gatti, Jacob Malthouse, Raffaele Mauro, Raycho Raychev, Sara Sabry, Barret Schlegelmilch, Jenni Sidey-Gibbons, Anastasia Stepanova, Mani Thiru, Trent Tresch, Aoife van Linden Tol, and Luis Zea. 
The Karman Fellowship is the flagship program of the non-profit foundation, which aims to promote cooperation through action. As a 'space-for-impact' foundation, the Karman Project will support the Fellows in addressing six key Impact Themes: Sustainability, Education, Empowerment, Cooperation, Science, and Inspiration. 
The selected Karman Fellows will participate in a program designed around three pillars: Leadership, Dialogue and Action. They will be invited to meet with global leaders, strengthen their relationships with one another and engage in strategic discussions regarding the future of space. They will have the opportunity to take part in various in-person activities throughout the year, including the Jarman Gala Dinner and the Karman Fellowship Week.
Partnership activities will commence in July 2023, with the Karman Project set to co-host the third edition of the Smart Space MBA Elective at the University of Oxford, related to their partnership with the University of Oxford's Space Initiative that was announced in November 2021. 
"These are the people shaping the technologies and roadmaps for exploration, education, medicine, climate policy and other time-critical topics for humanity," says Hannah Ashford, Managing Director of The Karman Project. "How they do it matters."