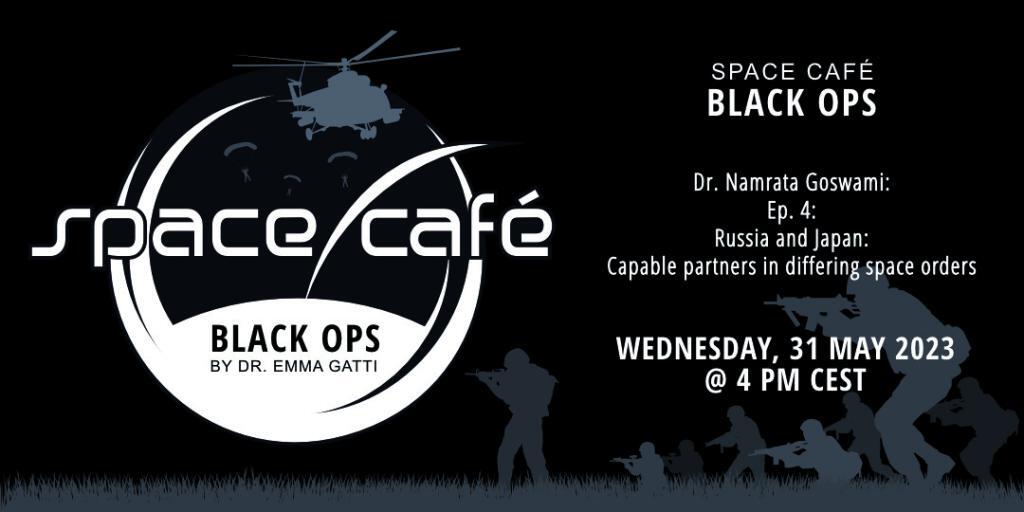 This Space Café Black Ops will feature Dr Namrata Goswami , an independent scholar on space policy and Great Power Politics, in conversation with Dr. Emma Gatti, Editor in Chief of SpaceWatch.Global.
Ep. 4: Russia and Japan: Capable partners in differing space orders
Black Ops returns with a mini-series fully dedicated to the Indo-Pacific and global geopolitical Space picture. Protagonist of the mini-series will be Dr. Namrata Goswami, an independent scholar on space policy and Great Power Politics. Dr. Goswami is a Faculty Associate at the Thunderbird School of Global Management, Arizona State University. She is also a consultant for Space Fund Intelligence and a guest lecturer at the seminar on "India Today: Economics, Politics, Innovation & Sustainability". She is also the author of the book "Scramble for the Skies: The Great Power Competition to Control the Resources of Outer Space".
In the fourth episode, "Russia and Japan: Capable Partners in differing space orders," we delve into two intriguing case studies. On one side, we have Russia—a long-standing rival to the United States in the race for space supremacy. On the other side, we encounter Japan, a rising star that has been making waves in the space industry since the early 2000s by venturing into space economy and private investments. Recent events, such as the Ukraine attack and the successful landing of iSpace's HAKUTO-R Mission 1 Lunar Lander module, provide the backdrop for discussing how these two countries have chosen distinct approaches to their space endeavors. While both Russia and Japan remain valuable players in the global space arena, they have charted contrasting paths in their space investments.
Join us as we explore their fascinating journeys and shed light on the unique contributions they bring to the table.
The audience will have an opportunity to ask questions to Dr. Namrata Goswami.
SpaceWatch.Global is a Europe-based digital magazine and portal for those interested in space and the far-reaching impact of the space sector.
This Space Café "Black Ops by Dr. Emma Gatti" will be conducted in English.
Reserve your spot now!