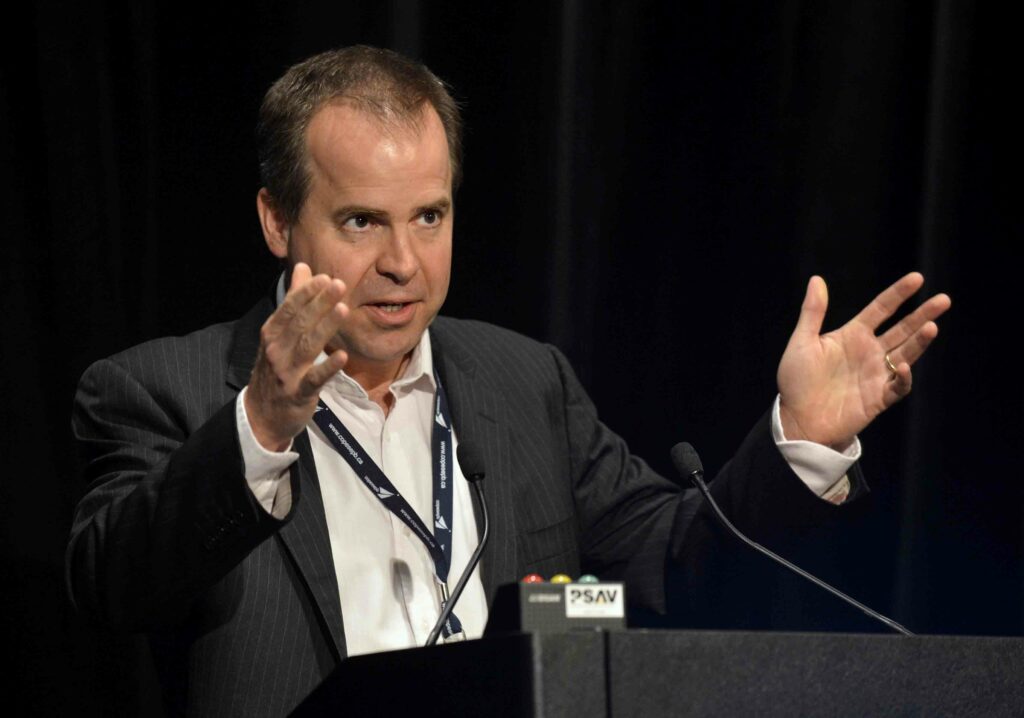 Our Space Café "33 minutes with Michael Byers" about the International open letter "Reducing risks from uncontrolled reentries of rocket bodies and other space objects" took place on Tuesday, 3rd January 2023.
Michael Byers holds the Canada Research Chair in Global Politics and International Law at the University of British Columbia. He co-directs the Outer Space Institute, a global network of space experts united by their commitment to trans-disciplinary research that addresses grand challenges in the use and exploration of space. Along with Aaron Boley, Professor Byers is the co-author of "Who Owns Outer Space? International Law, Astronomy, and the Sustainable Development of Space". The book will be published, open access, by Cambridge University Press in February 2023.
"The main purpose of the International Open Letter is to educate people around the world, including the space community, to say that  we have a problem here. It's a small problem right now. But we have the technology, we have the mission designs, we care about the sustainable development of space, let's start working on this."
The Outer Space Institute, led by PhD student Ewan Wright and professors Michael Byers and Aaron Boley recently published an open international letter calling for the reduction of risk from uncontrolled reentry of rocket bodies. This initiative was prompted by research conducted by the Institute, which found that there is a 10% chance that someone on Earth will die from a piece of reentering rocket body in the next decade, and that this risk is entirely preventable. The problem is that countries and companies are choosing not to implement measures to prevent this risk. While some may argue that the risk is small compared to the number of people on Earth, it is worth noting that space activity is increasing at an exponential rate and that the risk may grow significantly in the future. Additionally, this is a solvable problem with only a few dozen companies and countries currently engaged in space launches.
The letter is addressed to major space agencies but has already received support from hundreds of signatories, including former heads of space agencies and foreign ministers. The main obstacle to addressing this issue is knowledge and disseminating research on the topic. Another obstacle is the desire to save costs, as some may see the risk of having to pay compensation as a cost of doing business. However, the risk of not taking action on this issue could be a sign that we are waiting for a major accident to occur before taking action (as happened with the transition to double-hull tankers in response to the Exxon Valdez oil spill). There is also a global equity issue at play, as the risk is higher for people in the Global South, particularly those living near 20-30 degrees north.
One potential solution is for countries to mandate that rockets have re-ignitable engines that can be restarted in space, allowing for a controlled reentry. It may also be necessary for an international agreement on regulation to be put in place.
In conclusion, the uncontrolled reentry of rocket bodies poses a significant risk to human life and property on Earth. While the likelihood of an incident occurring is currently low, with space activity increasing at an exponential rate, the risk will only continue to grow. While some may argue that the risk is too small to warrant action, the reality is that the risk is entirely preventable through the use of re-ignitable engines and modified mission designs. The time to address this issue is now, before the risk grows with the increase in space launches. Governments and agencies must work together to establish an international regime for controlled reentry to ensure the safety and sustainability of outer space for all.
To listen to the Space Café WebTalk's insights, you can watch the full program here: