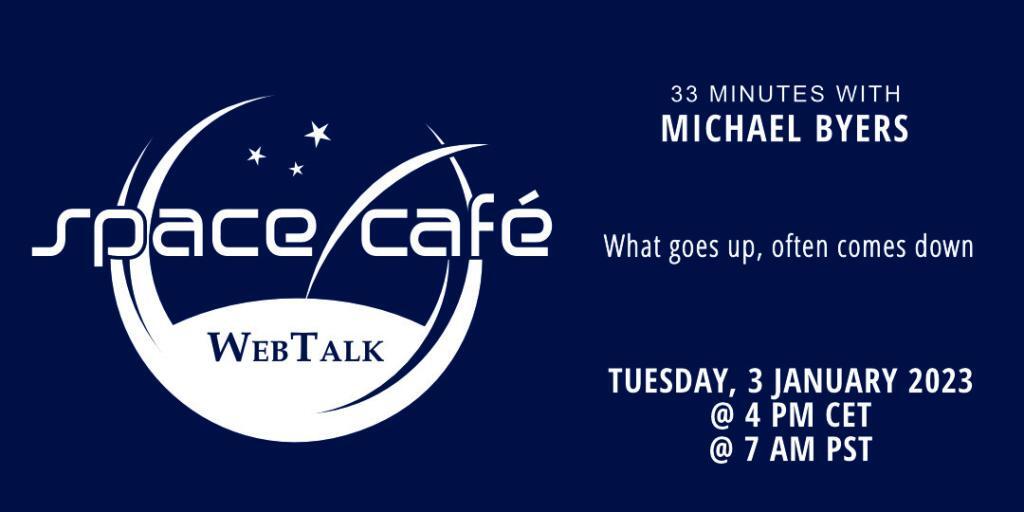 This Space Café WebTalk will feature Michael Byers , holder of the Canada Research Chair in Global Politics and International Law at the University of British Columbia and co-director of the Outer Space Insitute, in conversation with Torsten Kriening, publisher of SpaceWatch.Global. Join us for this webtalk on the 3rd of January 2023 at 4 pm CET and 7 am PST.
What goes up, often comes down
On December 19, the Outer Space Institute published an International Open Letter on Reducing Risks from Uncontrolled Reentries of Rocket Bodies.
The letter was signed by nearly 200 leading experts, including former astronauts, foreign ministers, heads of space agencies, a Nobel Prize winner, and a recently retired Chief Scientist of NASA. In 2021, over half of all launches to low Earth orbit resulted in an uncontrolled rocket body reentry. Portions of rocket bodies often survive reentry, with potentially hazardous debris reaching Earth's surface. Although uncontrolled reentries of Chinese Long March 5B core stages have drawn the greatest concern due to their mass, other actors allow rocket bodies and other objects to reenter in uncontrolled ways.
Conservative estimates place the risk of a casualty from uncontrolled rocket body reentries as being on the order of 10% over the next decade. Such estimates do not include risks from debris striking aircraft in flight or new developments in space. Mandating controlled reentries into remote areas of the ocean is currently the best way to reduce casualty risks. Complete atmospheric demise may also be possible for some rocket bodies. However, this does not address all environmental risks.
The International Open Letter urges governments to negotiate a multilateral agreement requiring controlled reentries and, in the meantime, demonstrate leadership with an immediate, unilateral commitment to national controlled reentry regimes. Action must be taken before a serious accident occurs.
Michael Byers holds the Canada Research Chair in Global Politics and International Law at the University of British Columbia. He co-directs the Outer Space Institute, a global network of space experts united by their commitment to trans-disciplinary research that addresses grand challenges in the use and exploration of space. Along with Aaron Boley, Professor Byers is the co-author of "Who Owns Outer Space? International Law, Astronomy, and the Sustainable Development of Space". The book will be published, open access, by Cambridge University Press in February 2023.
The audience will have an opportunity to ask questions in dialogue with Michael Byers.
SpaceWatch.Global is a Europe-based digital magazine and portal for those interested in space and the far-reaching impact of the space sector.
This Space Café WebTalk will be conducted in English.