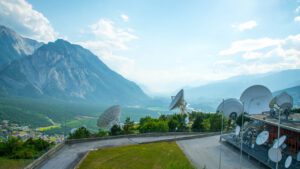 Edinburgh / Leuk, 1 September 2022. – Teleport services company Signalhorn, decided to change its name to Leuk Teleport & Data Centre following a strategic business review, to better reflect the future direction of the company, Signalhorn said.
The firm was founded in 1972 and has been providing highly secure connectivity ever since. Its customer base comprises major organisations, government institutions as well as the private sector. Leuk Teleport has a history of partnerships with companies such as SES, Intelsat and Eutelsat.
The firm will undergo infrastructure developments involving solar arrays, and equipping communications antennas with solar panels. The upgrade will allow for green operations with 100% solar and hydroelectric power for satellite and data centre customers.
Leuk Teleport is planning to improve its ground infrastructure to accommodate future multi-orbit satellite networking. The organisation's services are protected from 5G interference by Swiss telecom regulators along with topographical protection across all frequency bands. Furthermore, the company's highly secure state-of-the-art Data Centre provides 5000m² of data storage, Leuk Teleport said.