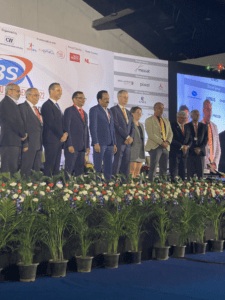 Edinburgh / Bengaluru, 6 September 2022. – So far seven Memorandum of Understandings (MoU) have been signed at the 7th Edition of Bengaluru Space Expo 2022, organised in association with the Indian Space Research Organisation (ISRO), the Indian National Space Promotion and Authorisation Centre (IN-SPACE) and NewSpace India Limited (NSIL). 
The Hindustan Aeronautics-L&T consortium signed an agreement with NSIL to manufacture five Polar Satellite Launch Vehicles. The first rocket is to be ready within 24 months, with the rest delivered six months after that. If the performance of these rockets is satisfactory, NSIL might order of 14-15 rockets from the consortium.
Six MoUs have also been signed between Indian and Australian companies. Space Machines Company and Ananth Technologies will collaborate on product integration, testing, technology development and joint space missions. SABRN Health and DCube will work together on the development and integration of hardware, sensor technology and software to provide health support to astronauts.
Australian startup HEX20 will join forces with Skyroot Aerospace to provide launch services, spacecraft avionics and components to Australian space initiatives. QL Space and Skyroot Aerospace will further develop Australian launch facilities as well as support joint space mineral exploration missions.
QL Space and GalaxEye will develop a hybrid optic and radar payload together to reduce the environmental impact of critical mineral exploration. QL Space and SatSure will cooperate to build satellite and AI-based solutions supporting agriculture, mining and defence industries.