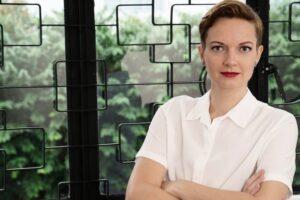 SpaceWatch.Global is pleased to present: The Space Café Podcast #061 –  Judith Walls, Wildlife warrior and why the decision about the future of your company is being made right now
Episode 061 features a special guest: Prof. Dr. Judith Walls.
Judith Walls researches at the intersection of business and environmental sustainability at the venerable University of St.Gallen in Switzerland. She focuses on governance characteristics of boards and managers in the context of pressures from stakeholders and other institutions on organizations. Her work extends to the environmental governance of industries that directly impact land use, such as agriculture, mining, and trophy hunting. So what does all this have to do with Space? A lot. A brand new episode of the Space Cafe Podcast is out now.
The Space Cafe Podcast brings our signature brand of engaging and relevant content from across the global space economy to you via an exciting new format. Together with award-winning Executive Producer, Markus Mooslechner (Terra Mater Factual Studios), our fortnightly podcast features guests that matter.
Each episode includes a review of important topics, as well as guest appearances and deep commentary from expert panellists from across the space sector.
SPOTIFY:  Space Cafe Podcast Guest Tunes
Thanks to our global distribution partner, BookWire, the podcast is available on all major podcast platforms.