By Dr. Catherine Doldirina & Prof. Nicolas Peter

The Space Studies Program (SSP) of ISU is since 1988 a unique intensive nine-week course hosted each year where participants learn about all facets of space. The SSP provides courses in all space disciplines, as well as hands-on education through workshops and professional visits. As part of the SSP academic program participants must chose and attend the so-called departments that offer three weeks of lectures and activities dedicated to a specific sector, e.g. engineering, space applications and other. This year was no exception during the 34th SSP in Oeiras (Portugal).
This year Dr. Catherine Doldirina, General Counsel at D-Orbit  and myself Prof. Nicolas Peter ISU Faculty and Head of the Space Policy and Entrepreneurship Lab (SPEL)  co-chaired the Policy, Economics and Law (PEL) Department. We worked since the end 2021 to prepare the PEL Department programme. We had countless meetings and interactions with various experts to provide the best insights in our fields for this year's SSP.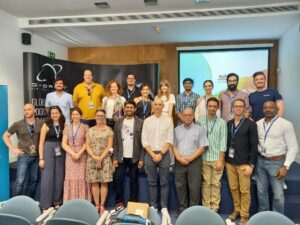 The theme we chose for this year's PEL activities was to focus on the changes in the space sector and to highlight the emergence of a "new" space ecosystem (including but not limited to so-called NewSpace) characterised by the evolving role of the public and private sector, increased attention to sustainable conduct of space activities, changing economic and market conditions, as well as developing applicable regulatory framework. This focus shaped the content of all the 16 PEL Department sessions and guided our curriculum and its activities.
We were fortunate to work for the period of over 3 weeks in July and August with 14 participants from 9 countries and different backgrounds coming from space agencies and Air Force, research organisations, universities and private sector. The richness of profile and diversity allowed interesting discussions, exchange of views and productive sharing of expertise and experience.
We offered SSP PEL Department participants the opportunity to interact during dedicated lectures, workshops and hands-on activities with the representative of the UN Office of Outer Space Activities, experts from space agencies including NASA, JAXA, ESA, CNES, Portugal Space, academics from ISU, George Washington University, University of Texas, University of Cardiff, MIT, University of Porto, as well as with the practitioners from the leading law firms such as Vieira de Almeida (Portugal), Alden Legal (UK), Dentons (France), consulting firms like PwC, management of technological park Lispolis (Portugal), and professionals from NewSpace companies Nanoracks, D-Orbit and RFA.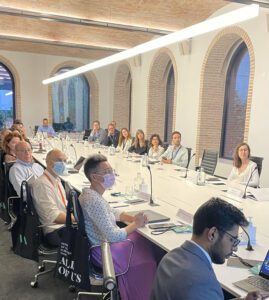 The PEL Department organised for the participants two professional visits in Lisbon: one at the leading law firm in Portugal VdA, one of the few in Europe with a team specialising in space law and one at the most dynamic technological park in Lisbon LISPOLIS  and to visit its resident D-Orbit Portugal. Those were certainly highlights of the PEL Department thanks to the hospitality of the hosts and the stimulating discussions and engagement of the participants. In addition, the visits provided a better understanding of why Portugal can be seen as a disrupting space player in Europe. Portugal has a vibrant and well-connected ecosystem that allows it to be agile to change to seize new opportunities of today and of tomorrow.
The theme of the PEL Department's activities was visible also in the topics presented and discussed throughout the sessions. The new PEL Department curriculum allowed to present what in our opinion are the key topics showing the changing space context. The chairs and invited experts provided insights about the evolving space economy, the role of new public and private actors, development and modification of national legal frameworks, space and UN Sustainable Development Goals, space sustainability and the corresponding UN COPUOS Guidelines, space security, mega-constellations, as well as space exploration. Joint activities with the Management and Business (MGB) Department also allowed participants to work on specific case studies that put in practise the lectures on financing for start-ups, and legal aspects of setting new business and conducting new activities, such as in-orbit servicing.
One of the innovations of this year's PEL Department was also to have a new approach to the Department assignment – an essential element of the curriculum. We decided to replace the traditional moot court exercise that focussed on international space law and resolution of disputes between countries by the UN International Court of Justice, with an arbitration case involving private companies registered in different jurisdictions and resolution of a dispute between them following the International Chamber of Commerce arbitration procedure. We believed that the exercise to arbitrate the dispute between two companies related to in-orbit services will allow participants to acquire new skills useful for their careers in the space sector and beyond. This exercise challenged the students not only to work in diverse teams but also to confront a real-life scenario between private companies, and to develop strategies to handle dispute resolution and arbitration. Each of the three teams of participants (claimants, respondents and arbitrators) presented their arguments and arbitral award during the last session of the PEL Department.
The 2022 PEL Department activities allowed everyone from participants to lecturers and chairs to benefit from the exchange and discussions. As PEL Department activities came to an end we are confident to have facilitated establishment of long-lasting connections among those involved.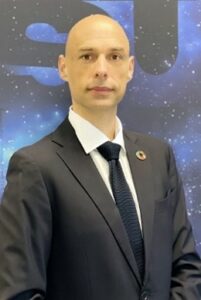 Nicolas Peter is Professor of practice in Space Policy and International Affairs at the International Space University (ISU) and is the Resident Faculty responsible for Space Policy, Economics, and Law (PEL) education and activities at ISU. He is the head of the "Space Policy and Entrepreneurship lab" and is involved in the management of the ISU incubator. Prof Peter is seconded by the European Space Agency (ESA). Prior to his appointment at ISU, he has been the Head of International Affairs at the German Aerospace Center (DLR). Nicolas Peter has also been working at the European Commission and at ESA in the Director General's Cabinet and Strategy department, as well as the European Space Policy Institute (ESPI) and the George Washington University's (GWU) Space Policy Institute and a Research Fellow at the X PRIZE Foundation.
Mr Peter has 20+ years of international experience in space policy on 4 continents and 8 countries. He is also Board of Director of the Women in Aerospace Europe (WIA-E) in charge of corporate relations and partnerships and an Honorary Board Member of the Space Generation Advisory Council (SGAC) and a winner of the inaugural IAF Young Space Leader award.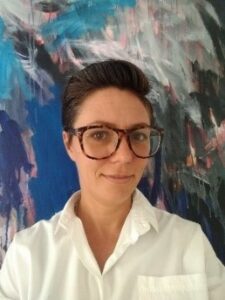 Catherine Doldirina is the Legal Counsel at D-Orbit and a space law expert focusing on intellectual property law, general questions of space law, as well as legal and policy issues regarding access to and use of various types of data.
Her over 15-year professional experience includes consulting practice on space law and related topics, work in government and academia.
Catherine is an active member of the International Institute of Space Law, a member of the International Astronautical Federation's International Programme Committee of the, a Corresponding Member of the International Academy of Astronautics and the Legal Advisor and Secretary of the World Space Week Association