By Ian Grosner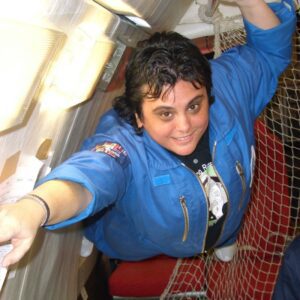 In this week's Space Café Brazil, Ian Grosner talked with Prof. Dr. Thais Russomano , a Brazilian Space Scientist, Researcher and Medical Doctor.
Prof Thais Russomano has 30+ yr of experience in Aerospace Med, Space Phys & Digital Health. She is an MD with an MSc in Aerospace Med/USA, a PhD in Space Phys-KCL/UK, and was a researcher for 3 yr at DLR/Germany. Founded and coordinated for 18 yr the MicroG-PUCRS, BR, is academically linked to several Universities (i.e, KCL-UK, Univ of Lisbon-PT, UFCSPA-BR). She has authored books, book chapters and numerous papers, is an Academician of the IAASM and IAA (Board of Trustees 2019-2023 & Publication & Communication Committee (2021-2023). She is a Board Member of companies, reviewer for journals, and holds patents in Space Sciences and Biomedical Engineering. Thais acted as a voluntary Mentor for Space4Women, a UN initiative (UNOOSA, 2020-2021) and is InnovaSpace UK co-founder & CEO.
Several topics were addressed during the program. First, Thais Russomano talked about the experience of pursuing her master's degree at the only university in the world at the time, Wright State University (USA), which accepted civilians on the course. She also talked about her passion for space since she was a little girl when she founded an astronomy club in her hometown and how, after graduating in medicine, she managed to bring both areas together. The conversation also discussed the risks associated with spaceflight, especially radiation, confinement, distance from Earth and microgravity. Regarding the physiological differences in space between men and women, the professor pointed out that the studies are still very preliminary since few women have been to space so far and that the comparison is still tricky. Finally, the conversation touched on the future of humanity in space. Do we want to be an interplanetary species? Humans are terrestrials and a considerable evolution would be necessary to adapt to the off-Earth environment.
This Space Café Brazil, held on 8th August 2022, was hosted by Ian Grosner, correspondent of SpaceWatch.Global in Brazil.
SpaceWatch.Global is an Europe-based digital magazine and portal for those interested in space and the far-reaching impact of the space sector.
Here's the video: