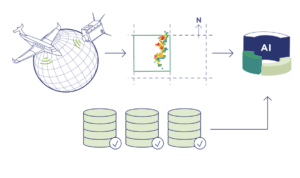 Edinburgh / Montreal, 12 August 2022. – High-resolution methane monitoring company, GHGSat set a new record in going from launch to the production of emission related climate impact data in just a matter of days utilizing its three newest satellites. The satellites have identified over 100 methane emissions since May this year.
The company has doubled its monitoring capabilities by adding the three spacecraft – GHGSat-C3 (Luca), C4 (Penny), and C5 (Diako) – to their repertoire. Moreover, the length of time between their launch and initial operationalization is a new milestone. It demonstrates the company's ability to scale greenhouse gas monitoring from space rapidly. Furthermore, GHGSat said that the new X-Band spacecraft communication system has increased data download speed tenfold. Quicker downloading enables greater global coverage and is critical for prompt methane leak response.
The Luca, Penny and Diako microsatellites were built by Space Flight Laboratory and are all equipped with attitude control technology. The technology helps pointing the platforms' onboard sensors precisely at emission sources as well as ensuring high quality imaging.
GHGSat is set to further increase the capacity of its existing six-satellite constellation by launching further spacecraft by the end of 2023.