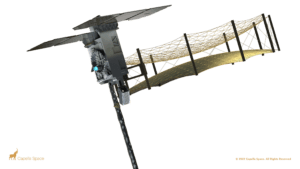 Edinburgh / San Francisco, 12 August 2022. – Information services and Earth observation company, Capella Space, unveiled new capabilities planned for its next generation "Acadia" technology satellites, to further extend its data offerings. The new satellites will expand Capella's existing constellation to provide high quality imagery and fast order-to-delivery speeds.
Capella's Acadia generation of satellites will further advance Capella's Earth-imaging offerings. These include increasing radar bandwidth from 500 MHz to 700 MHz, improving slant range resolution down to 0.214 m and ground range resolution to 0.31 m. The increased bandwidth along with increased power give a boost to Capella's SAR (synthetic aperture radar) products. 
Capella has applied upgrades to the payload downlink antenna which will increase delivery speed and provide more imaging capacity. The Acadia spacecraft will be equipped with optical communications terminals demonstrating optical inter-satellite links. These are compatible with the U.S. Space Development Agency's new National Defense Space Architecture and standards.
The first of the Acadia satellites is scheduled for launch in early 2023.