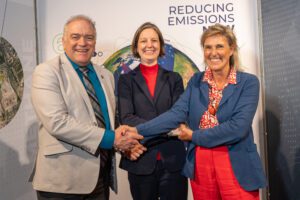 Edinburgh, 25 May 2022. – High-resolution greenhouse gas monitoring company GHGSat, has joined ESA's prestigious Third Party Mission Programme, ESA said. The company will share data from its fleet of commercial satellites with Earth science and climate change researchers free of charge.
The 45-year-old programme enables the global scientific community to access high-quality data from Earth observation satellite missions. ESA's Third Party Missions Programme comprises over 60 instruments on more than 50 space missions.
All five of GHGSat's commercial satellites will participate in the project. These include Iris and Hugo already in orbit, as well as Luca, Penny and Diako expected to be launched later this week. The company aims to expand the constellation to 10 satellites by 2023.
The cooperation builds on the successful long-term data-sharing where ESA and the Canadian Space Agency partnered with GHGSat. According to the partnership, the agencies can access 5% of Iris' data for research purposes for free.
Both ESA and GHGSat support the United Nations Environment Programme's new International Methane Emissions Observatory as well. The observatory identifies sources of human-made methane leaks, which are a major factor in global warming.