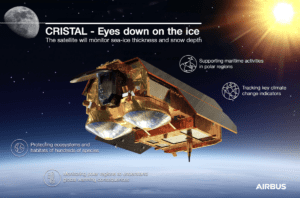 Edinburgh / Friedrichshafen, 25 May 2022. – ESA has confirmed after a thorough review process that the preliminary design of the Airbus-built Copernicus Polar Ice and Snow Topography Altimetry mission CRISTAL, meets all system requirements, Airbus said. CRISTAL will measure sea ice thickness and ice sheet elevations with the help of a multi-frequency altimeter.
The CRISTAL altimeter will also measure the ice sheets' snow coverage, which data will support maritime operations and help understand climate processes better. CRISTAL will back coastal and inland water applications as well as ocean topography observations. Cryosphere (the frozen water part of Earth) monitoring is a prerequisite to assessing, predicting and adapting to climate change.
The 1500-kilogram spacecraft has six fixed and two deployable solar arrays with a four-terabit memory. CRISTAL will be deployed into polar orbit at 699 km above the Earth and is expected to be operational for 7.5 years.
The German Friedrichshafen site of Airbus Defence and Space is heading an industrial consortium comprising companies from 19 countries to deliver the project. CRISTAL is scheduled for launch in 2027 after a successful planned for Critical Design Review in May 2024.