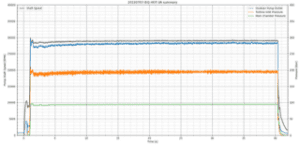 Lake Balaton / Augsburg, 14 July 2022. – Launch service provider Rocket Factory Augsburg (RFA), successfully tested its Helix engine in flight configuration for a total of 74 seconds, the company reported. The test included long-duration hot firings of 30 and 40 seconds each, preceded by a short test of four seconds of the same engine. The tests reached the desired duration, Helix operated nominally and was shut down safely. 
The 74 seconds of steady-state combustion demonstrated the engine's endurance and multiple ignition capability, RFA said. The firm gathered valuable data to further optimize the engine.
No components had to be replaced during testing which also saw the up-throttling of the engine to 130% of the nominal design point. The next milestone will be the upper stage's integrated systems test during which Helix will fire for a full flight duration. Preparations for the test planned for the end of this year include the maintenance and expansion of the test stand.
RFA's staged combustion engine has higher efficiency and performance compared to open-cycle rocket engines. It evades the release of unburned fuel by feeding such exhaust gases into the main combustion chamber. This process increases efficiency, reduces launch costs and minimizes CO2 emissions, according to the company.