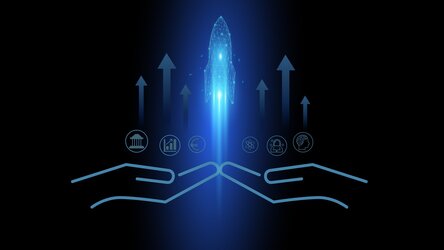 London, 15.08.2023.- The first companies have joined ScaleUp Invest, a new ESA commercialisation programme, which aims at accelerating the growth of the private space ecosystem. The companies in order of acceptance are: Isar Aerospace, Rocket Factory Augsburg, Orbex, Aerospacelab, and Space Cargo Unlimited. 
ScaleUp will support NewSpace developments by stimulating companies to take more risks, hit the market faster, attract private and institutional investors, and introduce game-changing business innovation by providing external support to business development. This could include technical consultancy, access to facilities, in-orbit demonstration and validation opportunities.  
By gaining the label "Supported by ScaleUp" and joining the ScaleUp INVEST Marketplace, companies have the opportunity to fast-track their growth trajectory and establish themselves on the local and global market. 
"Designed together with our stakeholders, ScaleUp INVEST represents a new way for ESA to foster the development of industrial players in upstream and downstream emerging markets," said Gianluigi Baldesi, Head of Ventures and Financing Office at ESA. "We are looking forward to testing this disruptive approach."
The programme is domain independent, including upstream and downstream. It does not address Technology readiness levels (TRL) maturation, but provides end-to-end business support to innovation.
The ScaleUp programme is based on two distinct elements. Element 1 (also known as INNOVATE), has the goal of boosting innovation and commercialisation in Europe by providing services to support the growth of companies from initial business ideation up to market readiness. Element 2 (INVEST) supports companies in taking more risks, reaching markets faster, and attracting private and institutional investors through the ESA Investor Network, Business Accelerators, and ScaleUp INVEST Marketplace.