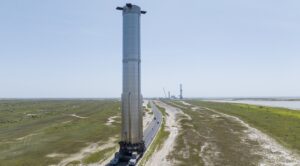 Budapest, 13 July 2022. – SpaceX's first orbital Starship vehicle's booster test ended in an anomalous fire originating from the base of the vehicle. The pad was cleared of personnel at the time of the fire, no injuries were reported.
Super Heavy Booster 7 was tested at SpaceX's Starbase complex at Boca Chica, Texas. SpaceX was planning on conducting a spin start test of the engines, which did not involve ignition. No static fire or pre-burner tests were planned either. The cause of the anomaly is currently under investigation and the damage to the booster is under assessment. 
SpaceX has been carrying out tests of both Booster 7 and Starship's upper stage, Ship 24. These tests are essential before the first orbital launch of the spacecraft. The such launch will include Starship entering orbit at an altitude of about 250 km before re-entry. Both Starship and the Super Heavy booster will splash down in the ocean, although the booster might attempt a landing back at Starbase. 
The company's Federal Communications Commission (FCC) application for a license needed for the testing covers a six-month period starting in August this year. SpaceX also requires a launch license from the Federal Aviation Administration (FAA) ahead of the launch, which has not been granted yet.