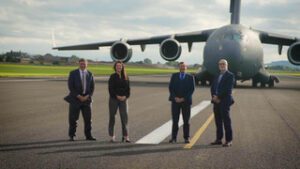 Budapest / Edinburgh, 20 July 2022. – Prestwick Spaceport's representatives are to meet with stakeholders at the Farnborough International Airshow (FIA 2022) this week to accelerate plans to become Europe's premier space launch location, the company said.
The spaceport has already secured more funding than any other UK spaceport, for example US $96 million from the Ayrshire Growth Deal. The development is currently working on creating more than 4,000 new jobs in Ayrshire, Scotland, leveraging its transport links and proximity to satellite manufacturers. 
Last year, Prestwick Spaceport signed a Memorandum of Understanding with horizontal launch company, Astraius, to accelerate Scotland's space industry ambitions. Both companies are attending FIA 2022 and will further develop plans to accommodate growing satellite launch services demand.
Prestwick Spaceport is to finalize plans for its second public consultation regarding its launch licence application. It is also working on attracting investment, developing supply chain opportunities and conducting outreach activities. The spaceport is committed to encouraging young people to consider a career in Scotland's space sector, through its "A New Hope" outreach campaign. 
FIA 2022 is expecting 80,000 visitors from over 100 countries. Space firms have the opportunity to feature their services at a dedicated Space Zone, hosting exhibition booths from key space companies.