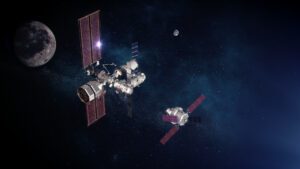 Budapest, 20 July 2022. – In-Orbit communications company, Solstar Space (Solstar) will provide the Wireless Access Points (WAP) to be used on NASA's Habitation and Logistics Outpost (HALO) module planned for launch in 2024, the company announced along with aerospace and defense technology company, Northrop Grumman.
WAP, smaller than a laptop and mounted inside the HALO module, will ensure persistent connectivity for space-based operations. It will provide a WiFi network in support of communications between astronauts and ground control, the lunar surface, and spacecraft. It will also support payload integration and experiments by securely connecting computers and IoT sensors. 
The HALO module's mission critical component is essential to the safety and success of the Lunar Gateway's first module. Solstar has previously demonstrated spaceflight-proven communications technologies deployed on Blue Origin's New Shepard and UP Aerospace spaceflights. Future space-hardened units could aid Moon surface operations, used on rovers as well as habitation units.