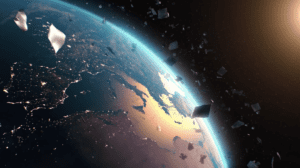 Budapest, 19 July 2022. – End-to-end space solutions company, Raytheon Intelligence & Space, is to acquire space domain awareness, orbital analysis, space surveillance and tracking start-up, Northern Space and Security (NORSS), Raytheon said.
The UK-based startup was founded five years ago by Ralph Dinsley, a Royal Air Force veteran. The company currently provides orbital analyst technical services to the UK Space Agency. It has also won a contract with the UK Ministry of Defence recently for developing a new simulator system for future British military satellites.
Raytheon UK's Strategic Research Group has special interest in space domain awareness. The acquisition means that NORSS gets an opportunity to gain access to the U.S. market. The merged company "will enhance the quality of the UK's orbital analysis and space situational awareness technologies," said Jeff Lewis, chief executive of Raytheon UK.