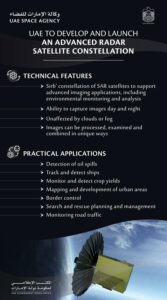 Budapest, 19 July 2022. – The United Arab Emirates (UAE) announced its plans to develop a radar satellite constellation as part of the National Space Fund  worth over US $800 million to boost its space sector. The project makes the UAE the first Arab country to develop a constellation of SAR satellites.
Sirb (Arabic for a flock of birds), the synthetic aperture radar (SAR) satellite constellation is to be developed over six years. The first Sirb satellite is due to launch in three years.
The small satellites will operate in X-band and will feature deployable antennae. The spacecraft will have an accuracy of one meter and will be used for environmental and land usage monitoring, data collection and analysis. The high quality land use, ice cover, and surface characterisation images have a wide range of applications. These include oil spill detection, road traffic and crop yield monitoring, border control as well as aiding search and rescue operations.
The UAE will seek bids for the development of satellite components, launch, operations and a commercialization plan. The project will be open to Emirati and international companies as well.