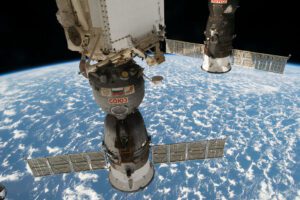 Budapest, 19 July 2022. – After Dimitry Rogozin had been removed as head of Roscosmos, NASA announced it signed an agreement with Roscosmos to exchange seats on spacecraft traveling to the International Space Station (ISS) from September.
NASA says that "integrated crews," with Russian cosmonauts on Crew Dragon spacecraft and American astronauts on Soyuz spacecraft, are essential to safe ISS operations. They ensure that appropriately trained crew members enter the station to carry out essential maintenance and spacewalks. It also protects against problems with any spacecraft, serious medical issues, and emergency situations requiring the crew to leave the ISS sooner than expected.
According to the agreement, Roscosmos cosmonaut Anna Kikina, will fly to the ISS in September on the Crew-5 Crew Dragon spacecraft. NASA astronaut Frank Rubio on the other hand, will launch on the Soyuz MS-22 spacecraft. Cosmonaut Andrei Fedyaev is assigned to the Crew-6 mission, while astronaut Loral O'Hara to the Soyuz MS-23 mission next year. NASA is hoping to get the agreement finalized this week.