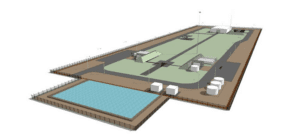 Budapest, 20 July 2022. – The Australian Government has granted approvals to launch two suborbital "Kestrel I" rockets from the Whalers Way Orbital Launch Complex by rocket manufacturer ATSpace, and spaceport provider, Southern Launch, the companies announced.
Missions VS02 and VS03 will send the experimental Kestrel I rockets to sub-orbital trajectories to test the rocket design. The rocket launch noise data will inform planned future operation best practices of the Whalers Way Orbital Launch Complex. The two suborbital launches will demonstrate the technical performance of the system to validate the future Kestrel V orbital design.
Southern Launch is committed to developing a sustainable local space launch industry to create skilled jobs and advance science and technology capabilities, the company said.
ATSpace, sister company to Taiwanese TiSPACE, and Southern Launch are supported by the South Australian Government and the Australian Trade and Investment Commission's Global Australia program.