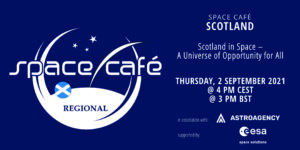 This Space Café Scotland will feature movers and shakers from the Scottish Space Ecosystem in conversation with Angela Mathis, CEO of ThinkTank Maths and a friend of SpaceWatch.Global.
Scotland in Space – a Universe of Opportunity for All
Angela Mathis will explore with her guests how Scotland's vision to build a vibrant Space economy is providing opportunities and inspiration for many.
Angela's guests are Kenzie Young, an accomplished Scot, who at 17 just returned from the NASA Summer Space School. Kenzie will share her experiences and how she uses them to shape her ambition to be an astronaut.
And Mick O'Connor the Prestwick (Scotland) Spaceport Programme Director – who will describe the life path that has brought Mick to his current role and vision for the future of Human Space flight from Scotland.
This Space Café Scotland will be conducted in English on 2 September 2021 at 4 pm CEST and is brought to you in partnership with a strategic space marketing firm, AstroAgency, supported by ESA Space Solutions
SpaceWatch.Global is a Switzerland-based digital magazine and portal for those interested in space and the far-reaching impact of the space sector.
The audience will have an opportunity to ask questions in dialogue with the panellists.
Reserve your place today.