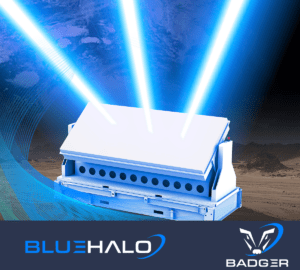 Edinburgh / Arlington, 1 June 2022. – Engineering company BlueHalo, has been awarded a US $1.4 billion contract by the Space Rapid Capabilities Office, a direct reporting unit of the U.S. Space Force, BlueHalo said. The award covers the Satellite Communication Augmentation Resource (SCAR) program including full lifecycle development from initial design through full rate production. SCAR will maximize satellite automation and flexibility while enabling continuous modernization, the company said.
BlueHalo will contribute radio frequency solutions to SCAR, and will provide the foundation of the program with its Multi-band Software Defined Antenna (MSDA) technology. The phased array technology simplifies mission operations through swift, re-configurable beamforming tiles. The company's Broad Area Deployable Ground terminal Enabling Resilient (BADGER) communication system is built on core MSDA technology as well.
BlueHalo will partner with Kratos Defense & Security Solutions to accomplish the program. Kratos will provide their software-defined satellite ground system, OpenSpace Platform, to enable scalable deployments. The value of the Kratos award is around US $160 million, comprising software and services among other system elements.