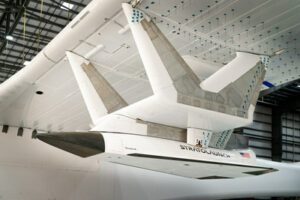 Edinburgh / Mojave, 1 June 2022. – Stratolaunch debuted its structurally complete Talon-A test vehicle, TA-0, that will validate the Roc aircraft's release system and characterize the separation dynamics of the Talon vehicle, the company said.
The pylon, comprising a mini-wing and adapter, will be used to carry and release the Talon-A hypersonic vehicles. It weighs over 3,600 kg and occupies 4 m of Roc's 29-meter wingspan, allowing for safe vehicle release and launch. The structure's winch system will load Talon-A vehicles onto the platform reducing the need for ground support.
TA-0 will not be powered in flight, however, its future versions will be rocket-powered, autonomous and reusable. They will be capable of carrying customizable payloads at speeds above Mach 5 (five times the speed of sound). TA-0 will undergo functional and integration testing, ending with a captive carry and vehicle flight, the company said. After the successful separation testing, the company will proceed to fly its first hypersonic test vehicle, TA-1. 
The first fully reusable hypersonic test vehicle, TA-2 is already under assembly. The Talon-A vehicles will enable testing in hypersonic flight environment, useful for scientific research, technological development, and component demonstration.