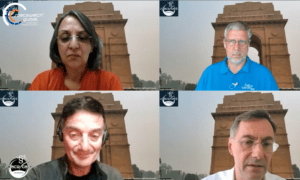 In the latest Space Café "Law Breakfast with Steven Freeland", Host Steven Freeland, Emeritus Professor of International Law at Western Sydney University, Sydney and Professorial Fellow at Bond University, Australia, and Co-Host Torsten Kriening, SpaceWatch.Global's Publisher, welcomed Ranjana Kaul and Kai-Uwe Schrogl at a wonderful picnic at the India Gate in Delhi, India.
Over bagels, croissants, coffee and other treats, they discussed many legal issues arising from everyday space activities, including the following:
How the overarching theme of 'peaceful uses' represents an essential element in the international regulation of the use and exploration of outer space.
How peaceful uses of outer space involves all stakeholders in the global space sector, including the United Nations, all countries (whether actively space-faring or not), industry and every aspect of civil society.
How the peaceful uses of outer space is vital if we are to preserve the stability, safety and sustainability of space for present and future generations.
The risks and dangers that geopolitical tensions and crisis, and the ever-increasing threats to the peaceful uses of space can have for all of us.
How space law can be used to avert or minimise those threats and what must be done for this to happen.
Ranjana and Kai-Uwe, both leading experts in space law, also provided their 'one word' to describe the wonders of space/space law – a tradition for all guests at the Space Café Law Breakfasts, and help to demystify the sometimes complex and contradictory vested interests involved in space activities and industry.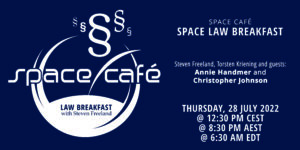 We hope that you enjoyed this discussion and will already note in your diary to join us in Washington DC for the next Space Café "Law Breakfast with Steven Freeland" on 28 July 2022, with our fabulous guests, Dr. Annie Handmer and Christopher Johnson. There will be so many issues to discuss.
Please let us know if there is a particular event or issue that you want our expert panel to help to 'demystify'. We are always interested in your views and suggestions.
We really hope you will join us for breakfast in March! See you then!
This Space Café "Law Breakfast with Steven Freeland" was held on 19 May 2022.
SpaceWatch.Global
is an Europe-digital magazine and portal for those interested in space and the far-reaching impact of the space sector.
Here is the video: