Seville, 10 November 2023. In an interview, we talked with Kai-Uwe Schrogl, ESA's Special Advisor for Political Affairs, about the consequences of the decisions taken during the ESA Council at the Space Summit in Seville. He was responsible for the coordination of the Space Summit activities and engagements of ESA, and acted as the coordinator for the Director General's Proposal to ESA's Ministers, which provides the rationale for the decisions taken and which, for the first time, was made publicly available.
Emma Gatti: Was Seville a wake-up call for Europe after other major spacefaring countries such as China and India made spectacular achievements in human spaceflight and Moon exploration?
Kai-Uwe Schrogl: If a wakeup call was necessary for us, we heard it already two years ago. The space ministers of ESA's Member States met in Matosinhos, Portugal in 2021, and together with them, we set out new strategies, new topics, and new partnerships for Europe. There is a direct line from Matosinhos to Seville via the Toulouse Space Summit of 2022 and the ESA Ministerial last November in Paris. So, if you wish, you find ESA completely woken up and alert in Seville. In Seville we have been making decisions that will shape Europe's space activities in this decade and further.
EG: Could you explain to us what is so exciting and new, and how these new decisions will respond to the external and internal challenges that Europe is facing?
KUS: You may get a feeling of what is so exciting when you read the Resolution, which is the summary document we usually publish. We also published the Director General's Proposal because it illustrates accurately what ESA is aiming towards. It is no less than a game-changer for European space activities. I should mention that originally the agenda of this ESA's Ministerial meeting was meant to focus only on exploration in response to the French president Emanuel Macron's call for autonomous human spaceflight for Europe at last year's Space Summit in Toulouse. We have responded to this by assembling the High-Level Advisory Group on this topic, which presented its report: Revolution Space – Europe's Mission in Space Exploration in March 2023. Anna Christmann, Aerospace Coordinator for the German Government and the Chair of ESA's Council at the Ministerial level, however wanted ESA to insert space for a green and sustainable future and access to space. And actually, both these topics turned out to be of strategic significance.
In Europe nobody wants billionaires taking over our space activities.
EG: Why was this composition of the agenda of such a strategic significance?
KUS: It provided us with the opportunity to showcase our approach for a green future for both the environments we are trying to protect, on Earth and Space. Such an approach consists of projects and initiatives like the Green Transition Information Factories or space data for Digital Twins of the Earth. One of the strongest areas of ESA's approach in the use of space for sustainable projects on Earth is the extension of partnerships and stakeholders for green transformation and crisis management. This has increased considerably the relevance and breadth of the use of space data and services. The Ministers also endorsed the opening of a period of registration of intent to sign the Zero Debris Charter, which focuses on radically stopping the production of space debris. This co-developed self-commitment of space actors will be a key component in creating a framework for the responsible use of space by the industrial sector. The contributions of ESA to space weather and space traffic management are also elements of the outcome of the meeting. All these activities are organised under what we call Accelerators, established following the Ministers meeting of Matosinhos. We were forced to speed up decision-preparation on a balanced scheme for the launcher sector, comprising stabilised exploitation of existing launchers in this decade, together with new approaches and to find a smart way of opening the door to fulfil expectations regarding autonomous human spaceflight for Europe.
EG: How will this be implemented? Can you elaborate on these new approaches, which you characterized as a game changer?
KUS: This new approach will see selected areas develop, for example ESA's role, which will evolve from launch system developing provider and procuring entity, towards a new role as an anchor customer, procuring commercial services with long-term commitments, and building up trust for private investment. ESA will act also as an enabler, procuring demonstrators and supporting de-risking technological activities with calculated risk sharing with the industry. It will be applied after Seville through a "challenge" without predetermined weight class and through a cargo transport and return service, which will bring cargo to and from low-Earth orbit and will be conceptualised for human transportation in a following step. Key strategic areas are thus matched with new game-changing approaches.
EG: Isn't it rather late in the game, given that SpaceX has been working on this for the past twenty years?
KUS: You have to keep in mind that Europe has always been at the forefront of applications and commercialisation and during the last decade decisively caught up in privatisation of all space activities, also in providing incubation as well as public and private investment for companies. ESA also has been strong in public-private partnerships in telecommunications and co-funding. With Boost! for example, ESA's initiative for a privately funded micro-launcher development, we began to support NewSpace start-ups in this field. We are entering a new dimension now, expanding our role from a traditional space agency to an anchor customer provider. What is particularly important to note is that ESA establishes this through competition and not by creating monopolistic consortia. We know how to get the best results for our Member States' investments and how, at the same time, to strengthen the competitiveness of the European industry in all participating states. In Europe nobody wants billionaires taking over our space activities. What we value instead is to see a mission-oriented governance and a purpose-oriented business approach creating public value. In this context, I could also note that many Member States turn to ESA to advise them on how to shape their national laws and regulations, because we have provided trusted support to them on this matter for two decades.
In Seville we have been making decisions that will shape Europe's space activities in this decade and further.
EG: What can you report about the joint meeting of the ESA Council and the EU Council? There hasn't been much good news about the relationship between these two organisations recently.
KUS: We originally wanted to have a formal meeting of the two Councils to make concrete progress on pressing issues such as closing the funding gap in Copernicus. Unfortunately, this was not possible, so there were just deliberations on a non-committing basis and the two Presidencies had to work hard to present substantive conclusions. Germany and Spain did this in very much appreciated transparency during the preparatory process inside ESA. This joint meeting of the Councils therefore did not match the strong signals and decisions of the ESA Council the day before.
EG: There have been many more events and activities taking place in Seville during this week. What is your overall assessment?
KUS: We were all impressed by what Spain set up during this week. From the high-level meeting with Latin American and Caribbean space institutions, via the EU Space Week, up to a Spanish Space Congress. It was landmark for Spain to present itself as a leader in the space domain in Europe. ESA was invited to participate and contribute to all these events, and we took the opportunity to present our concrete activities in all these fields, for example, to demonstrate that ESA has already for four decades cooperated with Latin America for joint benefits.
EG: Final question: Where will Europe stand in 2030 and what impact will Seville have on this?
KUS: It is fair to say that ESA has been dynamizing the European space landscape through its Council on the 6th of November. We will see even more ESA-driven leadership when it comes to both green transition and sustainability. In all areas, Europe aims to be a model, and I am sure that this will inspire others to cooperate and follow this example, based on the understanding that outer space is a global common and has to be used under the rule of law, developed multilaterally. By 2030, we will have a broader basis for autonomous access to space for Europe with multiple launcher families engaging in fair competition. This will reduce costs and provide new incentives for the private sector to invest in space activities. And we will have an exploration cargo vehicle, which will then take the step to carry humans. In parallel, we will have accomplished the necessary transition in approach and management. With the new European Parliament and the new European Commission from 2024 onwards, ESA will seek to shape a successful space agenda and I am confident that in 2030, our Member States will look back to their Seville Ministerial meeting with great satisfaction.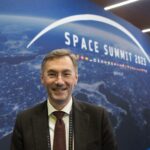 Kai-Uwe Schrogl is the Special Advisor for Political Affairs in ESA. He was responsible for the coordination of the ESA's Space Summit activities in Seville and the Director General's Proposal for the ESA Council at Ministerial level, which took place there on 6 November 2023.