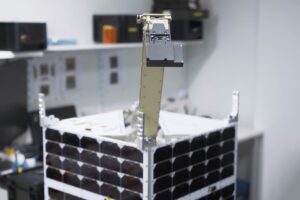 Edinburgh / Vilnius, 30 June 2022. – Smallsat bus manufacturer NanoAvionics, took the first ever 4K resolution full satellite selfie in space with an immersive view of Earth with the help of an off-the-shelf consumer camera mounted on a selfie stick, the company said. A GoPro Hero 7 took 12-megapixel photos and several 4K video clips of the MP42 microsatellite, located 550 km above the Coral Sea and the Great Barrier Reef.
The camera was also used to demonstrate satellite operations and a new payload controller. The latter optimises downlink for applications that require onboard processing of huge data packages, NanoAvionics said. Future uses of live and recorded satellite footage include deployment confirmation, fault and  micro-meteorite impact detection as well as educational purposes.
NanoAvionics chose a consumer camera as it has a high enough resolution, it is cheap, and fast with an immersive view of our planet. The company's engineers made a housing for the camera's electronics and integrated a selfie stick. They also developed a special software to be able to communicate with the satellite's systems. The data heavy images and videos were used during the launch and early orbit phase to verify system readiness.
You can watch the video here: