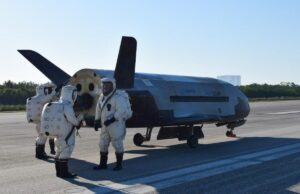 Edinburgh / Washington, 30 June 2022. – The U.S. Air Force's X-37B Orbital Test Vehicle Mission 6 is soon going to break its own record after conducting on-orbit experiments for over two years. The spaceplane has already spent 774 days in orbit, just 6 days shy of the previous mission record.
The Air Force's first reusable and unmanned spacecraft ensures the flexibility needed to improve technologies by recovering experiments after long-duration space flights. The X-37B program is managed by the Air Force Rapid Capabilities Office. It focuses on risk reduction, experimentation, and operations development for reusable spacecraft technologies.
The program aims to help the country maintain its superiority in the space domain by enabling the development of the necessary capabilities more efficiently.
The Boeing-built spaceplane was designed for an on-orbit duration of 270 days, however, Mission 4 landed after 718 days. Mission 5 launched in 2017, and laded 780 days later bringing the total number of days spent on-orbit to 2,865 days.